At 89, Devadasi Fasts for Lord Jagannath

BY: SUN STAFF CORRESPONDENT

Woman engages in sthala-vriksha (sacred tree) worship for welfare of her husband on occasion of Sabitri Brata
[Photos: Sampradaya Sun]




May 20, 2012 — JAGANNATHA PURI, ORISSA — Notwithstanding her deteriorating health condition, 89-year-old Sasimani Devi, said to be the lone surviving Devadasi of Jagannath Temple in Puri, fasted for the wellbeing of Lord Jagannath, for whom she observed holy Sabitri Brata on Sunday.

She is considered as the human wife of Lord Jagannath, as she ceremonially married to the Deity at the tender age of seven to get the status of Devadasi dancer. She has since been living the life of a celibate. Like other married women, Sasimani too wore new clothes, bangles and sported vermilion on forehead.




Devadasi Sasimani Devi worships Lord Jagannath at her house in Puri
"Lord Jagannath is my husband. It is quite natural to pray for long life of my husband, who is Lord Jagannath himself," said a frail Sashimani. "Goddess Mahalaxmi is the divine consort of Jagannath. But I am the only living human wife of Jagannath," the octogenarian woman maintained.
"I did not marry anyone because I was married to Jagannath," said Sasimani, who is living in the house of one of her admirers in Dolamandap Sahi, a stone's throw from the 12th century shrine.
Though she stays in close proximity of Jagannath Temple, her ailing health is a major deterrent to visiting the temple. "She cannot walk anymore. She broke her ankles after being attacked by a bull two years ago," said Mahari dancer Rupashree Mahapatra, who learnt some Devadasi dance tricks from Sasimani.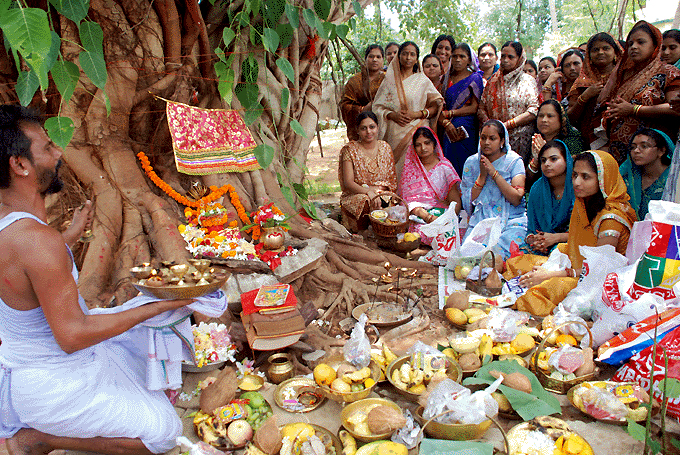 Married women worship Deities for wellbeing of their husbands in another temple in Puri
In much difficulty, Sashimani recollected that she stopped dancing in the temple when she was nearly 40. Sources said around twenty Devadasis were dancing in temple in 1920. By the 1980s, only four Devadasis, including Sasimani were left in Puri. Characteristic to the Devadasi tradition, they used to dance in front of the Deities during various rituals. However, the practice apparently faced extinction in the 1970's due to certain technical issues.
Meanwhile, the Sabitri Brata festival was observed by married women with great devotion across Orissa. Temples in Puri and other places were jam-packed as women thronged to worship deities for the wellbeing of their better halves.