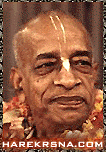 His Divine Grace AC Bhaktivedanta Swami Prabhupada, Founder-Acarya, International Society for Krishna Consciousness (ISKCON)


HareKrsna.com
Site Map

HOT LINKS
Samsara
Jesus in India
Vegetarian Islam
Book Changes
10,000 Websites

"My long desired scheme of a Krsna Conscious daily newspaper is being implemented. Please do this work very nicely. It will be a very great step in the history of ISKCON movement."
~ Srila Prabhupada, Letter to Satsvarupa 1971

"Here in this world there are thousands of newspapers and magazines reporting the stale, repetitious happenings of this limited space. So for reporting the news of the unlimited spiritual realm, concerning the eternal, ever-fresh Supreme Personality of Godhead, we could publish a newspaper at every second, what to speak of daily."
~ Srila Bhaktisiddhanta Sarasvati Thakura

"According to social conventions, it is said that one can speak the truth only when it is palatable to others. But that is not truthfulness. The truth should be spoken in such a straight and forward way, so that others will understand actually what the facts are. If a man is a thief and if people are warned that he is a thief that is truth. Although sometimes the truth is unpalatable, one should not refrain from speaking it. Truthfulness demands that the facts be presented as they are for the benefit of others. That is the definition of truth."
~ Bhagavad-Gita As It Is. Ch 10:4

"May cows stay in front of me; may cows stay behind me; may cows stay on both sides of me. May I always reside in the midst of cows."
(HBV 16.252)

In remembrance of Kurma Rupa dasa

Wounded Lakshman
Illustration from Ramayana manuscript


Message of
Thakur Bhakti Vinode

BY: SUN STAFF

Feb 23, CANADA (SUN) — By HDG A.C. Bhaktivedanta Swami Prabhupada, 'Back To Godhead', Jan 1, 1944, Vol. 01, No. 01 & 04.
"There is no other way out of this great ocean of Nescience except the unalloyed mercy of the Absolute Godhead. Living entity although superior in nature in comparison to the nature of matter, he is by association dependant and weaker than the material nature. The Absolute Godhead is the creator of all entities, He is the maintainer and deliverer of all entities. The innumerable living entities are infinitesimals and Godhead is Infinite. The infinitesimal living entity is therefore subordinate to the Infinite and as such he is transcendentally the eternal servitor of the Absolute Godhead.
FULL STORY


Satapatha-Brahmana

BY: SUN STAFF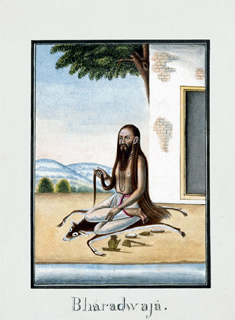 Feb 23, CANADA (SUN) — A serial presentation f the Satapatha Brahmana, translated by Julius Eggeling in 1882.

Today we begin a presentation Of the Satapatha Brahmana, translated by Julius Eggeling in 1882. Satapatha Brahmana is comprised of Books I and II. The first is notable for its description of the story of the flood of Manu.

Satapatha Brahmana was authored by Yajnavalkya Katyayani, a descendent in the line of Angira Rishi and Bharadwaja Rishi. Bharadwaja Rishi was a descendant of Angira Rishi, and he is one of the Saptarishis in the present Manvantara. Bharadvāja Bahaspatya is the progenitor of the Bharadwaja family, who are attributed with composing the Sixth Mandala of the Rgveda. Mandala 6 is also known as the 'Bharadvaja Family Book', because all 75 of its hymns are composed by a member of this great family over several centuries.
FULL STORY


Amalaki Vrata Ekadasi

BY: SUN STAFF

Feb 23, CANADA (SUN) — Phalguna-sukla Ekadasi, or Amalaki Ekadasi, observed February 26 in LA and Mayapur, from the Brahmanda Purana.

King Mandhata once said to Vasishtha Muni, "O great sage, kindly be merciful to me and tell me of a holy fast that will benefit me eternally." Vasishtha Muni replied. "O king, kindly listen as I describe the best of all fast days, Amalakii Ekadasi. He who faithfully observes a fast on this Ekadasii obtains enormous wealth, gets free of the effects of all kinds of sins, and attains liberation.

Fasting on this Ekadasii is more purifying than donating one thousand cows in charity to a pure brahmana. So please hear me attentively as I tell you the story of a hunter who, though daily engaged in killing innocent animals for his living, achieved liberation by observing a fast on Amalakii Ekadasii and following the prescribed rules and regulations of worship.
FULL STORY



BY: BHAKTIN EMILY NAYHREE

Feb 21, DUBLIN, IRELAND (SUN) —
An Introduction
For decades, ISKCON scientists, Sanskrit scholars and devotees in general have been puzzled by the remarkable and almost unbelievable descriptions of the Bhu-mandala earth disc described in the Fifth Canto of Srimad Bhagavatam, and its incredible dimensions, features, shapes, oceans, mountains, etc. None were able to resolve the obvious differences when compared to conventional modern Cosmology and how our known earth fits in. Many theories were put forth to explain this such as, multi-layered meanings by Sukadeva Goswami, other dimensional landmasses beyond our vision, the miniature duplicate Bharat-varsha idea, etc. But nothing seemed 100% certain and clear and the entire concept has remained an ongoing mystery.
FULL STORY


Romapada Swami
Leave of Absence

BY: SUN STAFF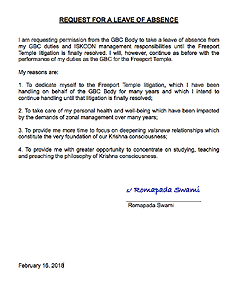 Feb 21, USA (SUN) —
REQUEST FOR LEAVE OF ABSENCE
I am requesting permission from the GBC Body to take a leave of absence from my GBC duties and ISKCON management responsibilities until the Freeport Temple litigation is finally resolved. I will, however, continue as before with the performance of my duties as the GBC for the Freeport Temple.
FULL STORY



BY: PRAHLADA NRSIMHA DAS

Feb 21, FRANCE (SUN) — I heard a little of Prahladananda Maharaja's recent class in Mayapur and what appears, coming from him, to be threats and attempts to intimidate the Mayapur assembly of devotees. That is very often practiced in ISKCON: if you dare to criticize ISKCON's high authorities, your life will be destroyed! Who will not be afraid of that?
Therefore, if those devotees read me, I want to tell them that there is absolutely no harm in having one's own opinion about everything and everyone, including ISKCON's so-called big leaders. Devotees just have to try to build their personal opinion as rightly as possible. And that, on the basis of Srila Prabhupada's genuine books and philosophy, on the basis of what other devotees say everywhere and also on the basis of their own intelligence and intuition which Krsna gives them, mainly through their japa.
FULL STORY


The Science of Congrega- tional Chanting of the Name of the Lord, Part 5

BY: SUN STAFF

Feb 19, CANADA (SUN) — By HDG A.C. Bhaktivedanta Swami Prabhupada, 'Back To Godhead', Jan 1, 1944, Vol. 01 & 04.
Such is the unbounded mercy of the Lord on us but still we are so much wretched that we have no inclination for chanting His Name in spite of His being so easily available for the fallen souls of the Age of quarrel. There is nothing to lose or nothing to spend-but everything to gain by chanting the Name of the Lord but still we have no genuine desire for their chanting and we must see to the causes why we are so much disinclined although the Lord has become so merciful on us.
FULL STORY



BY: PRAHLADA NRSIMHA DAS

Feb 19, FRANCE (SUN) — Every attempt made by ISKCON's media to counter what is often rightly said on other news sites, shows the same usual tactic. A tactic which is also used intra-muros by its leaders: to build myths and to make-believe. And, of course, make-believe makes a very bad couple and wedding with our exact philosophy. On contrary, make-believe absolutely needs the creation of superstition. And superstition goes together with fear and abusive, subtle intimidation of others. Everyone has long known that.
To the opposite, the exact science of Krsna Consciousness, and its public expression, destroys myths and fake beliefs and assertions. Therefore, to make people believe, for instance, that to have received initiation in Srila Prabhupada's time and therefore to be an "exclusive Prabhupada disciple" confers special extraordinary hidden spiritual powers and ability to give very special blessings (which is, of course, perfectly wrong), it absolutely requires using the tool of created myth and superstition. For this above assertion does not resist either our philosophy and any intelligent analysis nor any consideration of facts.
FULL STORY



BY: CAITANYA DAS

Feb 19, MANCHESTER, ENGLAND (SUN) —
Consciousness to whom does it belong
Conscious energies originating from
Consciousness a supreme source
A delightful blissful force
Consciousness meant to please
Submit and share and heed
Consciousness meant to link
Consciousness ready to think
A way of service driven by
A consciousness sweet and shy
Consciousness needs inspiration
Never alone less more frustration
Supreme consciousness never alone
He has become many and He has shown
How consciousness meets
And in Union complete
Only to separate again
And unite and increase
Spiritual hankering won't cease
FULL STORY


The Science of Congrega- tional Chanting of the Name of the Lord, Part 4

BY: SUN STAFF

Feb 19, CANADA (SUN) — By HDG A.C. Bhaktivedanta Swami Prabhupada, 'Back To Godhead', Jan 1, 1944, Vol. 01 & 04.
Then again Sree Krishna Samkirtan being transcendental sound, we must distinguish Him from any of the mundane sounds. The mundane sound is always different from the object designated by the sound. For example we may cite that the mundane sound 'water' is always different from the object water designated by the sound water. When we are thirsty we may repeat the word 'water' and 'water' by sounds for one hundred and a thousand times, still we shall not be able to quench our thirst by such constant practices. That is the imperfectness or mundane inebriety of the mundane sounds. But Sree Krishna Samkirtan although descends from the transcendental kingdom apparently like the mundane sounds, just to favour us for His being audible by our present imperfect senses, He should never be concocted as one with the mundane sound.
FULL STORY


Parishads: Sri Purusottama Das Thakura

BY: SUN STAFF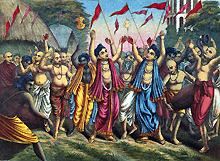 Feb 19, 2018 — CANADA (SUN) — The Appearance day of Sri Purusottama Das Thakura is observed on February 19th.
sadasivasuto namna nagarah purusottamah
vaidya-vamsodbhavo namna dama yo vallavo vraje
Nagar Purushottam was previously the cowherd named Daman in Vraja. He is now born in a Vaidya family as the son of Sadashiva. (Gaura-ganoddesa-dipika 131)
FULL STORY



Worship of Lord Brahma, Part 51

BY: SUN STAFF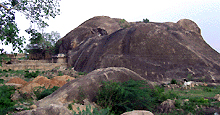 Feb 23, CANADA (SUN) A serial exploration of places of Lord Brahma's worship.
Lord Brahma at Malaiyadippatti
Following our recent visit to the Chola monument, Sri Brahmapurisvara Temple at Pullamangai with its beautiful sculpture of parivaara devata Lord Brahma, today we visit another temple where Lord Brahma is glorified as the parivaara, or subsidiary deity. The Olipathivishnu Vishnugraham Cave complex at Malaiyadippatti is an ancient rock-cut temple compound which houses many beautiful painted stucco images and murti figures of the divine personalities, with independent shrines for the Trimurti. Known as a Visnu temple with Perumal presiding, there are also main shrines for Brahma and Shiva, along with various subsidiary shrines.
FULL STORY


Srila Prabhupada Today

BY: SRILA PRABHUPADA TODAY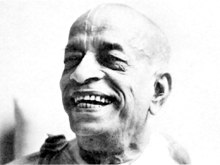 Feb 23, INDIA (SUN) — February 23, 1966 : New York

Srila Prabhupada forms the International Institution for God Consciousness and enrolls seven of the people who are attending his classes. (Srila Prabhupada believed that taking risk for Krishna is good. Accordingly he travelled to New York at 69 to propagate Krishna Consciousness. Initially he lived in the rear rooms of the yoga studio of Dr. Ramamurti Mishra at Upper West Side of Manhattan.
FULL STORY



BY: SUN STAFF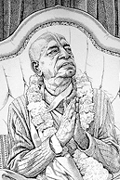 Feb 23,
CANADA (SUN)
Audio files with transcripts recorded on this day.

February 23, 1974, Bombay
Morning Walk
"...devotee candala, not ordinary candala -- he has dedicated his mind, his body, his activities for the service of the Lord. Therefore he not only is purified, but he purifies the whole family, whereas a qualified brahmana, if he is not a devotee, he cannot purify himself, what to speak of purifying the family."
February 23, 1975, Caracas
Srimad-Bhagavatam 1.1.2
"The boy, he must accept next the body of a youth, and the youth must accept the old man's body. This is the law of God. You must accept it. And just when this body is no more practically usable, then you have to accept another body and begin a new life."
February 23, 1976, Mayapur
Srimad-Bhagavatam 7.9.16
"...if one executes fruitive activities very nicely, he's promoted to the Candraloka. He gets there life for ten thousands of years, and he's given opportunity of drinking soma-rasa. So this is samsara-cakra, not that if you go to the higher planetary system you become happy. No. That."

Bhaktivedanta Book Trust. HDG A.C. Bhaktivedanta Swami Srila Prabhupada.

Worship of Lord Brahma, Part 50

BY: SUN STAFF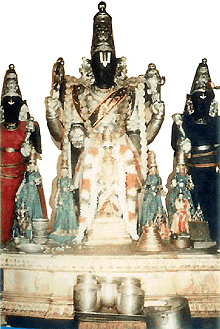 Feb 21, CANADA (SUN) A serial exploration of places of Lord Brahma's worship.
Lord Brahma at Thirukkannapuram
In the Tanjore district of Tamil Nadu, 10 miles inland from Nagapattinam and 4 miles from Nannilam, is the temple at Thirukkannapuram. It is one of the 108 Vaisnava Divya Deshams, and is considered to be the eastern gateway to Srirangam. A long time ago, Thirukkannapuram Temple was very close to the seashore, but the sea has now drifted back about 10 kilometers at this place.
FULL STORY


Srila Prabhupada Today

BY: SRILA PRABHUPADA TODAY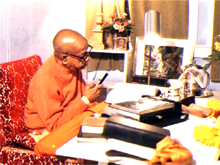 Feb 21, INDIA (SUN) — February 20, 1966 : New York

Srila Prabhupada completes tape recording of the Gitopanishad introduction. (Bhagavad-gita is also known as Gitopanishad. It is the essence of Vedic knowledge and one of the most important Upanishads in Vedic literature. There are many editions of Bhagavad-gita available, but none of them can be considered authoritative because in almost every one of them the commentator has expressed his own opinions without touching the spirit of Bhagavad-gita as it is. Bhagavad-gita should be understood as it is directed by the speaker Himself. The speaker of Bhagavad-gita is Lord Sri Krishna. Srila Prabhupada, the most confidential servitor of the Lord, presented Bhagavad-gita as it was spoken by the Lord.)
FULL STORY


Worship of Lord Brahma, Part 49

BY: SUN STAFF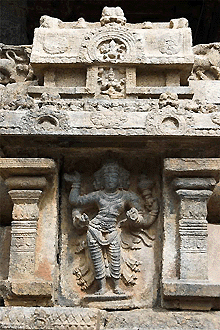 Feb 19, CANADA (SUN) A serial exploration of places of Lord Brahma's worship.
Lord Brahma at Darasuram
The village of Darasuram is located a few kilometers from Kumbakonam, in the Thanjavur district of Tamil Nadu. Darasuram (Dharasuram) is known for the grand Airavateswara Temple, constructed by King Rajaraja Chola II in the 12th century A.D. The historical name for this place was Rajarajapuram, no doubt named after the ruler who raised it. The temple is dedicated to Easwaran, and Lord Brahma is found here as a subsidiary deity, beautifully sculpted in a niche on the outer sanctum wall.
FULL STORY


Srila Prabhupada Today

BY: SRILA PRABHUPADA TODAY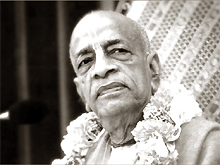 Feb 19, INDIA (SUN) — February 19, 1973 : Auckland

Srila Prabhupada arrives in Auckland (New Zealand) (Srila Prabhupada embarked on a preaching tour in Australia. He preached at cities like Melbourne, Sydney, Auckland, and Jakarta. He later remarked that the preaching was very satisfactory. Even while touring various parts of the world, Srila Prabhupada constantly corresponded with his disciples through letters. He clarified their doubts, rectified their mistakes and instructed them. These letters are treasured instruction manuals today.)
FULL STORY


Attachment for Anything Material Will Kick You Upon the Face

BY: SRI VRINDAVAN DAS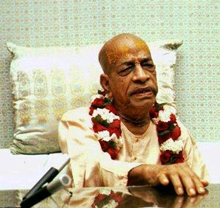 Bhaktivedanta Book Trust
Feb 19, INDIA (SUN) — Srila Prabhupada: Everyone wants to repose his loving tendency in some object which is in his opinion worthy. But the question is one of ignorance only, because people have a poor fund of knowledge about where to find that supreme lovable object who is actually worthy to accept and reciprocate their love. People simply do not know. There is no proper information. As soon as you have some attachment for anything material, it will kick you upon the face, deteriorate, and disappoint you. It's bound to dissatisfy and frustrate you. That's a fact. But these young boys in your country, and all over the world, are accepting, "Yes, that is a fact," and they are getting the right information from Kṛṣṇa:
FULL STORY


xt-align:justify'> Feb 17, INDIA (SUN) — Srila Prabhupada: "If you want to love somebody, you must know him. Love is not with the air. If you want to love somebody, then you must know what he is and why should I love him. So nobody can understand Kṛṣṇa. Where is the question of love? If you do not understand what is Kṛṣṇa, the question of loving Him does not arise. But here Caitanya Mahāprabhu is giving directly love of Kṛṣṇa. That means Kṛṣṇa understanding is automatically —finished. Therefore He is addressed as the most magnanimous.
FULL STORY