Worship of Lord Brahma, Part 30

BY: SUN STAFF



Nandi behind Arjuna Ratha, Mahabalipuram




Jan 11, 2018 — CANADA (SUN) — A serial exploration of places of Lord Brahma's worship.




Lord Brahma at Mahabalipuram

Mahabalipuram was previously known as Mamallapuram, the City of Mamalla, which is thought to refer to a title of King Narasimhavarman I (630-70 AD), the great Pallava ruler. Following the architectural style of his father Mahendravarman, Narasimhavarman is credited with building many of the rock-cut temples at Mahabalipuram. Narasimhavarman's grandson, Pallava Narasimha's grandson Paramesvara Pallava, and his son Rajasimha, also built similar works.

There is some debate amongst historians as to what rock-cut temples Narasimhavarman actually built. Some attribute certain rock-cut monuments here to Rajasimha, a descendent of Narsimhavarman I, and certain inscriptions seem to bear that out. But whoever the actual builders of the 15 cave temples at Mahabalipuram were, they certainly left edifices of great wonderment, and important examples of the devotional sentiments of the Pallava rulers.

For the sake of brevity, we will deal in this article with several of the Brahma murtis found in the extended complex at Mahabalipuram. There are four basic types of monuments found here: cave mandapams, monoliths, structural temples, and bas relief carvings. Most of these shrines were buried under sand for years before being excavated and returned to their visible beauty. In fact, a new structure was found after the 2004 Tsunami, and it is now being reclaimed by the Archaeological Survey of India.




Dharmaraj Ratha



Dharmaraj Ratha
We begin today at the Mahabalipuram compound known as the Pancha Pandava Ratha, which has five large stone chariot-like structures. The one on the south is the tallest, and is known as Dharmaraja Ratha. This three-storey structure is considered to be a Shiva temple, built by Atyantakama Pallava (Atyanta-kama-Pallaveshvara-griham) around 720 A.D. Among the various divine personalities embodied here are Ardha-Narisvar Shiva, Lord Brahma, Subramanya, Harihara, Bhairava, and Chandrashekhara Shiva.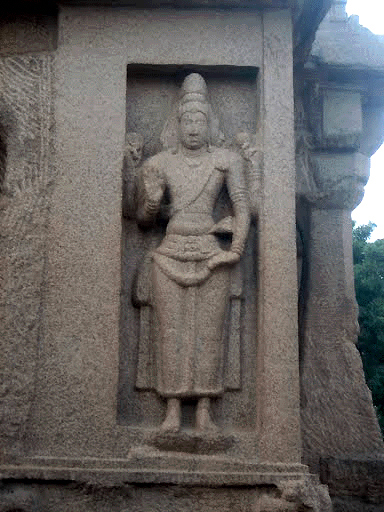 Lord Brahma, Dharmaraj Ratha
Adi Varaha Temple
Next is the Adi Varaha Temple, a rock cut mandir that has been in worship since 700 A.D. In excellent condition, the temple opens every morning and evening for worshippers. A stucco image of Lord Varaha was installed in the garba-graham as a later addition, along with a wall covering the front of the mandapam, which keeps the pillars from view. There are two rows of pillars in the mandapam, some with sitting lions at the base. There is a beautiful panel of Lord Brahma here, with three heads and four arms. On the floor of the ardha-mandapam, there is a two-line inscription, cursing those who are not devotees of Shiva.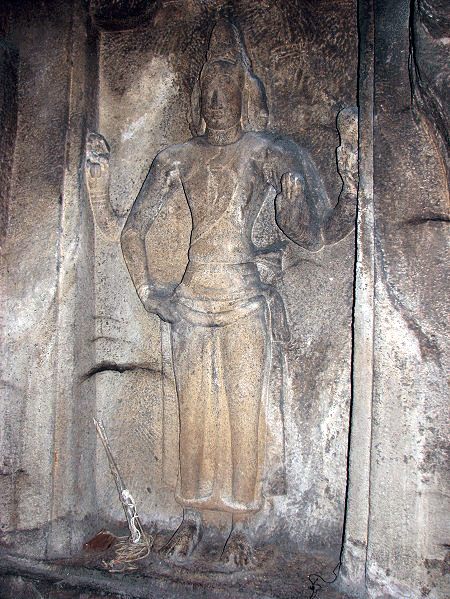 Lord Brahma, Adi Varaha temple
Mahishasur-Mardini Mandapam
As we move on to the Mahishasur-Mardini shrine, we note a point of clarification on yesterday's segment. Although the Orukal Mandapam at Tirukkalukkunram is, according to Google Map, approximately 15 km. east of Mahabalipuram, we find that the Orukal compound is included in many web presentations on the Mahabalipuram complex, as are several other examples of rock-cut temples on the periphery of Mahabalipuram. In some of these presentations, the Orukal Mandapam is referred to as the Trimurti Mandapam at Mahabalipuram.
The temple façade pictured yesterday with the unmatched pillars is actually the façade of the Mahishasur-Mardini cave, while the stone vimana on top of it is the main Orukal mandapam (Olakaneswarar). This is the 'upper verandah' referred to in yesterday's segment, and the Mahishasur-Mardini shrine is the lower verandah.
At Mahishasur-Mardini mandapam, Somaskanda Shiva is the presiding deity, and he is installed in the middle cell of the sanctum. This Somaskanda panel also features Lord Brahma. In it, we see Shiva seated with Parvati, baby Skanda sitting on Parvati's lap. Nandi stands behind. Lord Brahma, with three faces, and Lord Visnu stand behind the couple, at the top of the panel.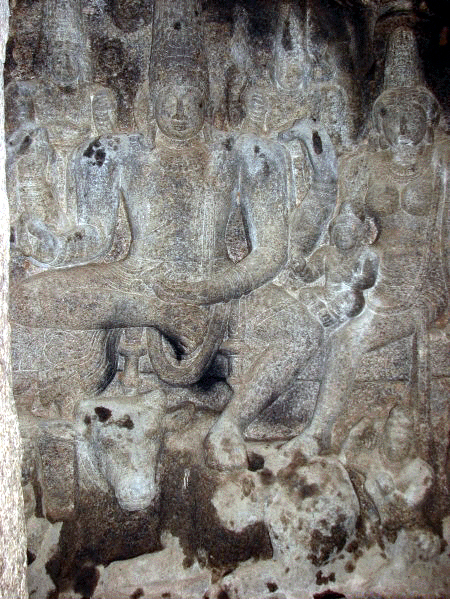 Lord Brahma in Somaskanda panel, Mahishasur-Mardini mandapam
Of the three shrines inside Mahishasur-Mardini, the central one is most prominent, although all three have dvarapalakas.
The Varaha Cave temple
Not to be confused with the Adi Varaha temple described above, the Varaha rock-cut cave mandapam has as its presiding deity Lord Varaha, in the form of a Varaha panel, located on the north wall.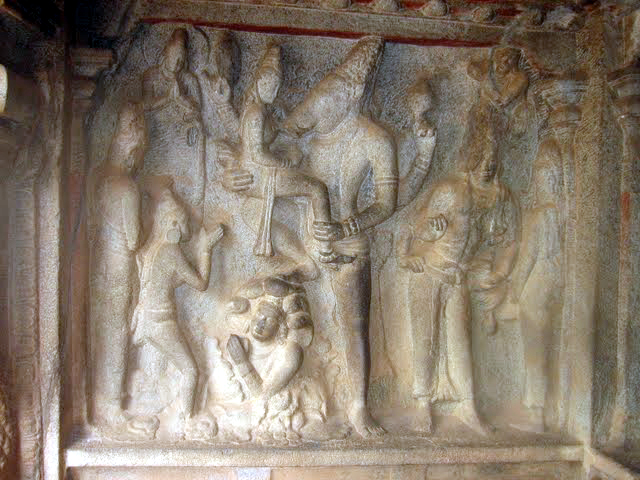 Lord Brahma in Varaha panel
Varaha-avatara is shown wearing a jeweled crown, His right leg on the head of Adishesha. Bhudevi is seated on His right thigh, holding a flower. In his back hands, Varaha holds the chakra and conch. A four-armed Lord Brahma stands on the right side, and beside Brahma is Narada Muni with his veena. On the left, we see Adishesha below, offering pranams, and his consort stands nearby, also offering prayers to Varaha. Behind her is a sage, assumed to be Sunandana. Surya and Candra are seen in the upper right and left corners of the panel.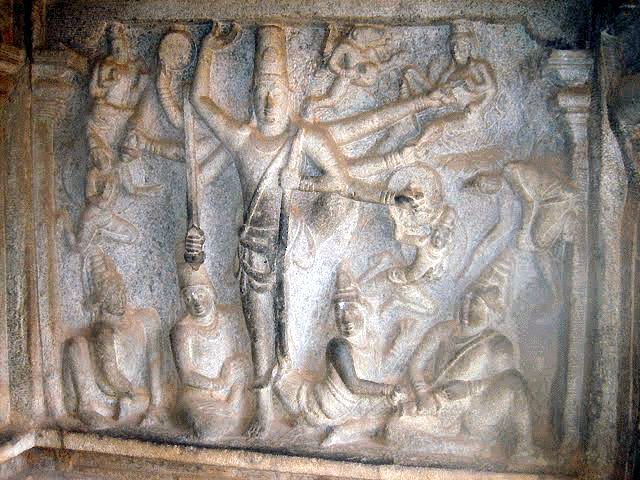 Lord Brahma in Trivikrama panel
Also found here is a wonderful and unusual panel depicting Lord Vishnu as Trivikrama, subduing the demon Bali. Trivikrama's leg is extended out, over the earth. As you face the picture, to the right of Visnu's head is Candra. To the right of him is Lord Brahma, seated on a lotus. Beneath Brahma is Jambavan, holding a drum. Across from him, to the left of Visnu, is Surya. On the left of Visnu, across from Brahmadeva is Shiva, also seated on lotus. In this panel, Brahma and Shiva are up in the air, because the Lord's leg is extended, reaching into the sky, to the abode of Brahma and Shiva.
On the far right, seemingly hanging from the wall, appears to be a vanquished Bali. Along the bottom row, on the far right is Bali, seated and wearing a pointed crown. Beside him is his guru, Shukracharya. On the other side of Vishnu is Garuda, near the Lord's feet, and beside him is the saint Sunandana.
Tomorrow we'll complete the Mahabalipuram area cave temples, with Lord Brahma at the Shore Temple and the Atiranachanda mandapam of Rajasimha.
Photos courtesy Lalitha Venkat and 'TamilNadu Explored'
SERIES INDEX:
Part 1 - Brahma-Karmali in Carambolim, Valpoi, Goa
Part 2 - Pushkar, Rajasthan
Part 3 - Chinch & Asotra, Rajasthan
Part 4 - Eklingji, Udaipur, Rajasthan)
Part 5 - Vasantgarh, Rajasthan)
Part 6 (Rajasthan: Bijoila, Mewar; Chandravati, Sirohi; Kiradu & Sevadi, Jodphur)
Part 7 (Khokhan, Himachal Pradesh)
Part 8 (Tihri-Uttarsal, Himachal Pradesh)
Part 9 (Una, Himachal Pradesh)
Part 10 (Dudhahi, Lalitpur, Uttar Pradesh)
Part 11 (Gaya, Bihar)
Part 12 (Tirupati, Andhra Pradesh)
Part 13 (Alampur, Andhra Pradesh)
Part 14 (Kaleshwar, Karimnagar, Andhra Pradesh)
Part 15 (Sampradaya Acarya - Lingampally, Andhra Pradesh)
Part 16 (Manthani, Andhra Pradesh)
Part 17 (Gurramguda Village, Andhra Pradesh)
Part 18 (Tirusulam, Tamil Nadu)
Part 19 (Kanchipuram, Tamil Nadu)
Part 20 (Kanchipuram, Tamil Nadu)
Part 21 (Kanchipuram, Tamil Nadu)
Part 22 (Kanchipuram, Tamil Nadu)
Part 23 (Kanchipuram, Tamil Nadu)
Part 24 (Syncretistic Forms of Lord Brahma)
Part 25 (Thirupachur, Tamil Nadu)
Part 26 (Pancheshti/Pancheti, Tamil Nadu)
Part 27 (Pallavaram, Tamil Nadu)
Part 28 (Chengalpattu, Tamil Nadu)
Part 29 (Mandagappattu, Tamil Nadu)
Part 30 (Mahabalipuram, Tamil Nadu)

The Sun News Editorials Features Sun Blogs Classifieds Events Recipes PodCasts
Copyright 2005, 2018, HareKrsna.com. All rights reserved.