Worship of Lord Brahma, Part 28

BY: SUN STAFF



Orukal Mandapam, Tirukkalukkunram




Jan 07, 2018 — CANADA (SUN) — A serial exploration of places of Lord Brahma's worship.


Lord Brahma at Tirukkalukkunram

From the time of King Mahendravarman I through the next century, there were quite a number of rock-cut temples constructed in South India. One of these, the Orukal Temple at Tirukkalukkunram, is the subject of today's segment. The Orukal mandapam is located on the east side of the Vedagirisevara Hill at Tirukkalukkunram, in Chingleput district of Tamil Nadu.

Tirukkalukkunram is 16 km. from Mahabalipuram (Mamallapuram). The area is surrounded by a cluster of four hills, believed to represent the four Vedas. The fourth of these holy hills, Atharvana, is best known for the prominent temple that sits atop it -- Vedagirisvara Temple. Further down the slope of that hill, King Mahendravaram excavated another temple from the hillside, and a standing deity of Lord Brahma resides there.






Orkut presiding deity, Shivalinga
While originally known as a Trimurti temple, at the present time Orkut-mandapam is considered a Saivite temple, or a Skandasishya mandir. The presiding deity is a large lingam. There is also a freestanding deity of Visnu in the sanctum, along with Brahmadeva. Standing in front of the inner sanctum is a large Dvarapala, carved in the style of Mahendra. Another Dvarapala, or temple guard, stands nearby with his hand raised to his head.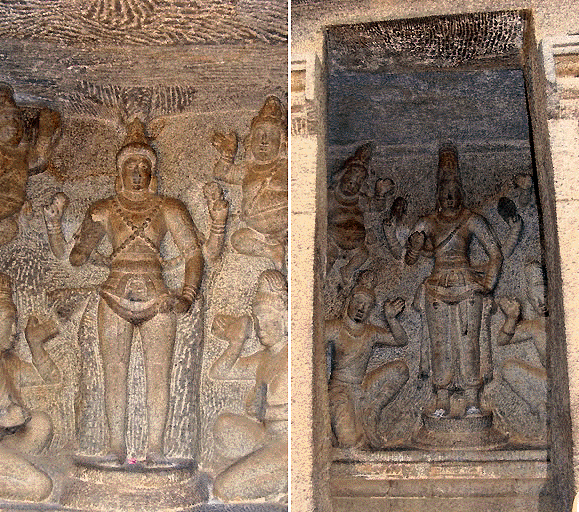 Lord Brahma (left) and Lord Visnu (right)
On the rear wall, to the left of the sanctum are the bas-relief sculptures of Brahma and, to the right, Visnu. Lord Brahma has a very unusual headpiece, not at all like the headgear typically given to him in other Pallava sculptures, which are generally tubular and narrowing at the top. Lord Brahma at Orukal has a headpiece that rises to a conical point, while Visnu is given a traditional headpiece.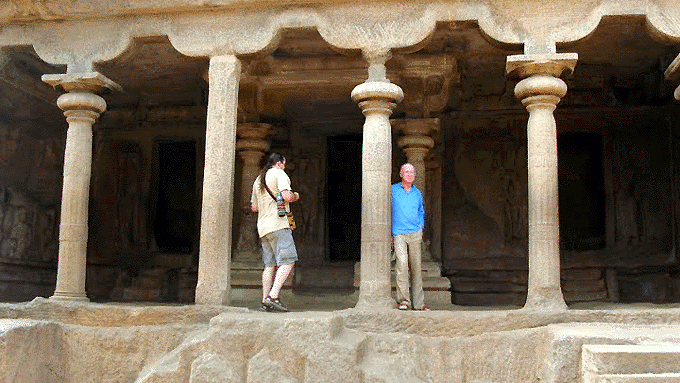 Orkut temple façade
The arrangement of the pillars in front of Orukal Temple are also unusual. Historians describe there being two pillars and two pilasters on the manadapa façade of this temple, with a similar set behind, inside the mandapa, where the ardha- and uka-mandapas (shrines for presiding and subsidiary deities) are located. The pillars are said to have top and bottom sadurams and intervening kattu, while the pilasters are uniformly four-sided, as in Mahendravarman's other cave-temples. In the current pictures, however, we see only one four-sided pilister and what appears to be an extra pillar with a missing saduram at top.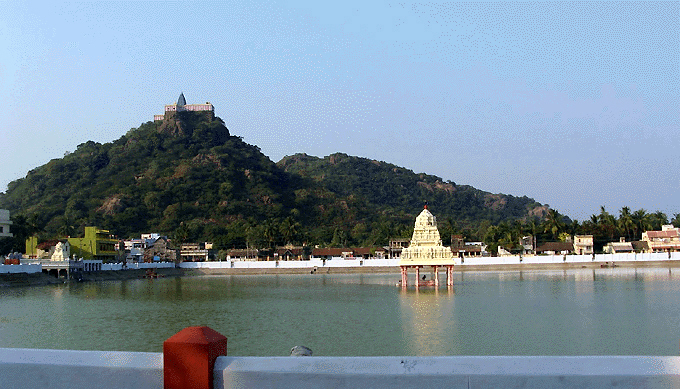 Vedagirisevara Hill
Vedagirisevara Hill at Tirukkalukkunram draws thousands of pilgrims and tourists each year, who come to visit the various shrines on the hill. The total area on the hill is some 265 acres, and the top is 500 feet above ground level. Devotees clamber up 562 stone slab stairs as they ascend to Vedagirisevara Temple. Along with the Orukal rock-cut temple, there are several other small mandapams along the path.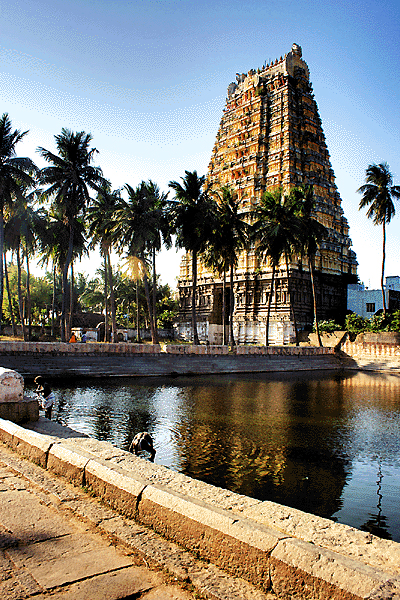 Vedhagireeswarar Temple and tank
Before ascending the steps, devotees offer their respects to Siddharti Vinayaka (Ganapati) and Ayyappa at the foot of the hill. In the main Vedagirisevara Temple at the top of the hill, the presiding deity is Vedagirishwarar, a swayambu Lingam enshrined in a niche carved from three large boulders. Descending a few steps down on the other side of the hill, a monolithic cave-temple is seen. This mandapam is full of rare sculptures belonging to the Mamalla period (A.D. 610-640).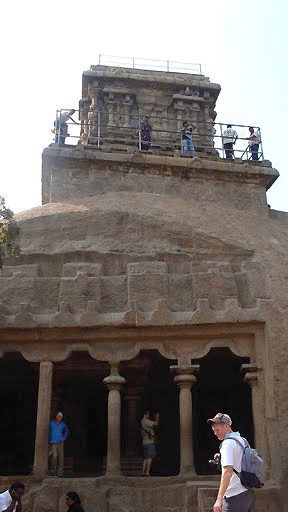 Stone Vimana atop Orukal Temple
There are two verandahs in the cave complex, each being supported by massive pillars. The upper verandah is the Orukal Temple, home to a large lingam with deities of Brahma and Vishnu on either side. On the lower verandah there are two more life-size statues, decorated with ornaments.
At the foot of the hill is a very large temple tank, Nandi Thirtham, with a huge Nandi facing Vedagirishwarar on the hilltop. There are 12 theerthams at different places on and around the hill.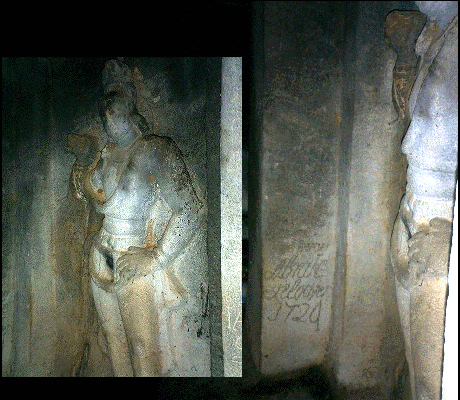 Dvarapalas at Orukal
The Vedas are said to exist here, embodied as the four local hills. The great sage Bharadvaja, who had been continually chanting the Vedas over three lifetimes, was approached by Paramesvra, who granted him a boon for all his efforts in attempting to learn the Vedas. Paramesvra said to the sage, "The Vedas you have learned all these years are like this handful of earth. What you have yet to learn is vast, like these mountains." It is believed that Vedagiri Hill at Tirukkazhukkunram is the place where Paramesvra caused the Vedas to appear in the form of these mountains. Devotees believe that circumambulation of the Hill gives an effect equivalent to worshipping the Vedas, and many devotees are found chanting "Veda, Veda, Mahaveda" in this place.
16 km. away, at the nearby Mammalapuram (Mahabalipuram) complex, there are fourteen more cave temples, nine monolithic shrines, three stone temples, and four relief sculptured rock panels, which drawn throngs of tourists to the area. Some of them are fortunate enough to press on to Vedagirisevara Hill at Tirukkalukkunram, and get the darshan of Lord Brahma.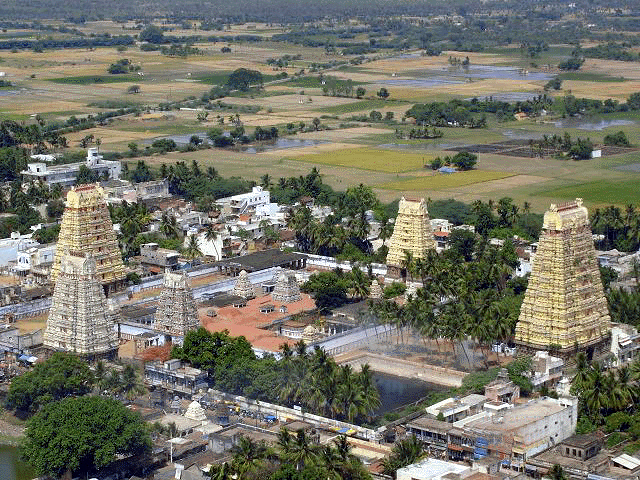 7th century Bhaktawastsaleswarar Temple,
as seen from Orukal mandapa
SERIES INDEX:
Part 1 - Brahma-Karmali in Carambolim, Valpoi, Goa
Part 2 - Pushkar, Rajasthan
Part 3 - Chinch & Asotra, Rajasthan
Part 4 - Eklingji, Udaipur, Rajasthan)
Part 5 - Vasantgarh, Rajasthan)
Part 6 (Rajasthan: Bijoila, Mewar; Chandravati, Sirohi; Kiradu & Sevadi, Jodphur)
Part 7 (Khokhan, Himachal Pradesh)
Part 8 (Tihri-Uttarsal, Himachal Pradesh)
Part 9 (Una, Himachal Pradesh)
Part 10 (Dudhahi, Lalitpur, Uttar Pradesh)
Part 11 (Gaya, Bihar)
Part 12 (Tirupati, Andhra Pradesh)
Part 13 (Alampur, Andhra Pradesh)
Part 14 (Kaleshwar, Karimnagar, Andhra Pradesh)
Part 15 (Sampradaya Acarya - Lingampally, Andhra Pradesh)
Part 16 (Manthani, Andhra Pradesh)
Part 17 (Gurramguda Village, Andhra Pradesh)
Part 18 (Tirusulam, Tamil Nadu)
Part 19 (Kanchipuram, Tamil Nadu)
Part 20 (Kanchipuram, Tamil Nadu)
Part 21 (Kanchipuram, Tamil Nadu)
Part 22 (Kanchipuram, Tamil Nadu)
Part 23 (Kanchipuram, Tamil Nadu)
Part 24 (Syncretistic Forms of Lord Brahma)
Part 25 (Thirupachur, Tamil Nadu)
Part 26 (Pancheshti/Pancheti, Tamil Nadu)
Part 27 (Pallavaram, Tamil Nadu)
Part 28 (Chengalpattu, Tamil Nadu)

The Sun News Editorials Features Sun Blogs Classifieds Events Recipes PodCasts
Copyright 2005, 2018, HareKrsna.com. All rights reserved.