FOR SALE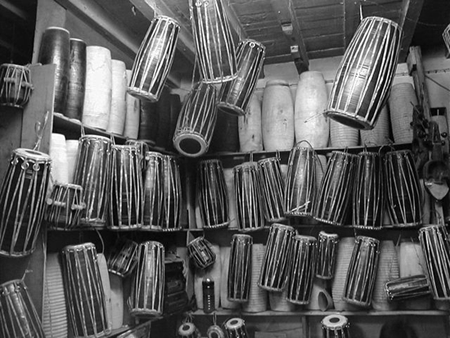 Original Srila Prabhupada Nectar For Sale




I must sell these prized possessions in order to raise money to prevent being evicted from my home. Please - serious inquiries only. For more information please contact me at johnstayhome@gmail.com.

ys Jagannatha dasa (SDG)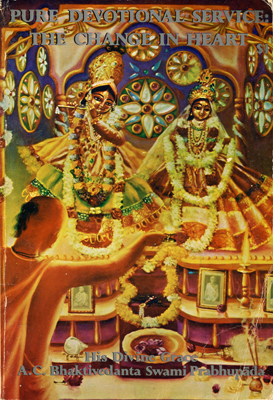 The Srimad Bhagavatam, Second Canto, chapter by chapter publications. These books were printed in 1970 and 1971 before the second canto was published. They were published by Iskcon Press in Boston, Mass. and Brooklyn, NY and released as each particular chapter was completed. All books are in excellent and near mint condition. I have chapters 3,4,5,6 and 9. I am also selling a number of first edition small books and other rare Krishna Conscious literature and also the 45rpm vinyl recording of Radha Krishna Temple from Apple Records produced by George Harrison, side one - Govinda, side two - Govinda Jai Jai.
Inside cover commentary from SB2, chapter 3:
"This book continues His Divine Grace A.C. Bhaktivedanta Swami Prabhupada's mighty project of translating and commentating upon the twelve cantos of Srimad-Bhagavatam, which is considered the ripened fruit of all the Sanskrit Vedic literature. Already published in three volumes is the First Canto of Srimad-Bhagavatam. The Second Canto is being published in serial form, chapter by chapter, by ISKCON Press, and this volume is the third in that series."
Srimad Bhagavatam Second Canto, chapter by chapter publications (described above):
iii Pure Devotional Service: The Change In Heart, Boston -SOLD-
iv The Process Of Creation, Boston
v The Cause Of All Causes, Boston -SOLD-
vi Purusa-Sukta Confirmed, Boston -SOLD-
ix Answers By Citing The Lord's Version, Brooklyn -SOLD-
All in excellent cond., $125 each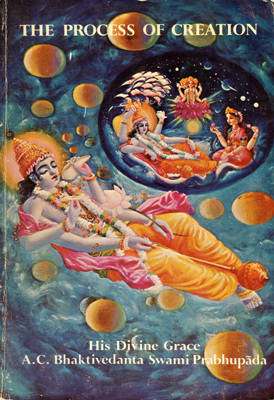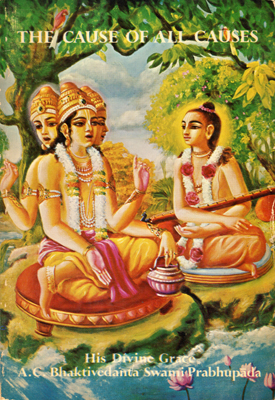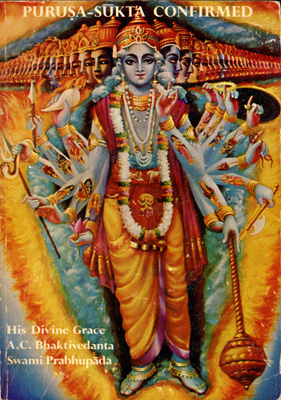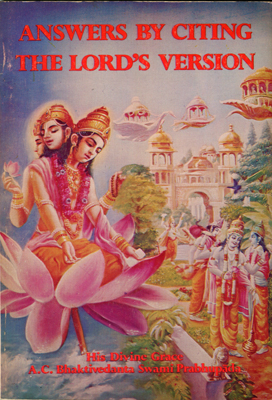 Radha Krishna Temple 45rpm vinyl record $25
Lord Caitanya in Five Features sc 1973 mint $50
Hare Krsna Cookbook sc 1974 mint $50
The Strange World of the Hare Krishnas sc 1974 good $10
Bhagavad-gita As It Is
a new translation, with commentary,
by Swami AC Bhaktivedanta
with appreciations by Allen Ginsberg, Denise Levertov, and Thomas Merton
1970 4th print sc no Sanskrit no illustrations excellent $50
Bhagavad-gita As It Is
His Divine Grace AC Bhaktivedanta Swami Prabhupada
Founder Acarya of the International Society for Krishna Consciousness
1978 5th print sc Great Britain no Sanskrit
25 full color illustrations excellent $50
Krsna the Supreme Personality of Godhead
His Divine Grace AC Bhaktivedanta Swami Prabhupada
Founder Acarya of the International Society for Krishna Consciousness
1970 hc 2 volume full color illustrations
slight tear corner cover vol1 otherwise excellent $200
Krsna the Supreme Personality of Godhead
sc 3 vol full color 1972 5th print mint $100
The Nectar of Devotion:
The Complete Science of Bhakti Yoga 1970
hc plastic coated cover browning edges from age very good $100
Srimad Bhagavatam first canto part one
hc 1972 mint $50
Light of the Bhagawata
hc 1984 1st edition mint $25
Transcendental Teachings of Prahlada Maharaja
1972 1st print pamphlet good $20
Sri Vyasa-Puja The Most Blessed Event
sc August 22, 1973 very good $100
Submitted by Jagannatha dasa (SDG), January 08, 2015
Siksamrta For Sale




Submitted by Nimai, Aug 17, 2014



Three extra large volumes of nectarean instructions from Srila Prabhupada's letters. The material has been organized into fifty major topics, with subtopics. Topics include: Book Distribution, Films, Health, Restaurants, Srila Prabhupada's Personal History, Women in Krishna Consciousness, etc. Every quotation on each particular topic or subtopic has been given. Total of 2,573 pages in three volumes. Full Set in good condition. Price 49€ plus shipping.
Please contact Juan Manuel on juan@bhaktiyoga.es
Submitted by Juan Manuel, Dec 03, 2014
Priceless Treasure

I have just a few, very small (about one and a half centimeters long, but none the less, very transcendental) pieces of hair from Srila Prabhupada's Lotus Head, which have been gracing my altar for many years, and although I am naturally very attached to having them purifying my home, and would not want to part from them, I have to just be practical (time and circumstance) as due to health problems, my financial situation is very delicate right now. Therefore, I will accept a donation for them from anyone willing to worship and honor these priceless treasures. I also have one of Srila Prabhupada's original business cards which He sometimes gave to people, and this particular one He gave to His personal servant Sruta Kirti das, who in turn gave it to me. If you are interested please contact me at: (310) 945-8848




Submitted by Nimai, Aug 17, 2014
Five Stories From Ancient India

Children's Books with artwork by Saradiya dasi. Five Blue soft bound books with 16 pages of black and white line art. Full Set is $15 plus shipping. Please contact the artist at saradiya108@yahoo.com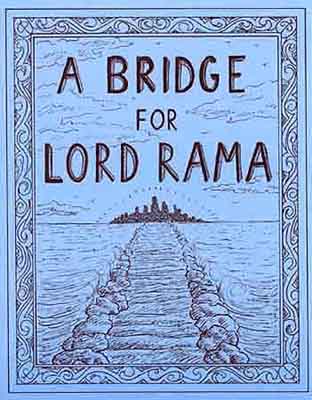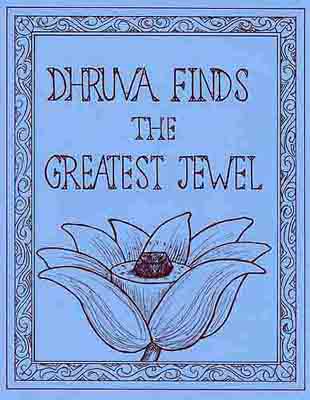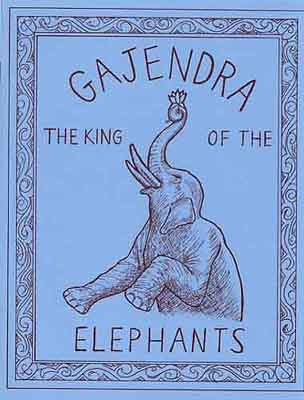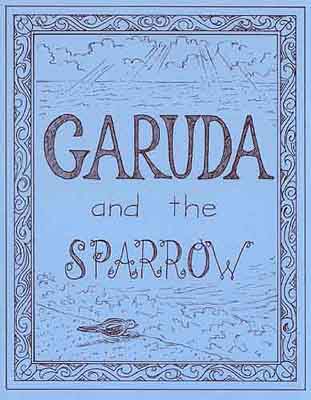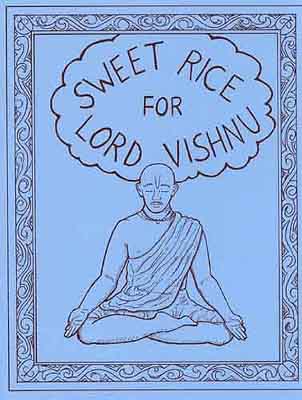 Submitted by Saradiya dasi, Jul 20, 2014
Jagannath Express Restaurant for Sale

Devotee restaurant business for sale in the Kootenay mountains of British Columbia. Read a detailed summary here.

Please call Vijeta dasa at (250) 354-1084.




Submitted by Vijeta dasa, May 14, 2014
Health Food Shop for Sale in Alachua

Hari bol! Due to serious health issues, we have to put our devotee-owned business up for sale. Harvest Health and Whole Foods opened in 2010, has a large and loyal customer base, is 100% vegetarian (no meat, fish & eggs/no alcohol) and 75% of our customers are devotees. The nearest health food store competition is 15 miles away.
Contact harvesthealthww@yahoo.com.
See website at: harvesthealthwholefood.blogspot.com.

Harvest Health & Whole Foods
14521 Main Street
Alachua FL 32615
(386) 462-0743




Submitted by Jerry MacDougall, January 20, 2014
Baby Balaram Mridanga




Hello, I have an original Baby Balaram Mridanga currently for sale on Ebay. I bought it direct from the LA Temple in the 1990s when I worked for the BBT:

Ebay Auction for Baby Balaram Mridanga




Submitted by Darryl Biggs, Jul 15, 2013
1958 Back To Godhead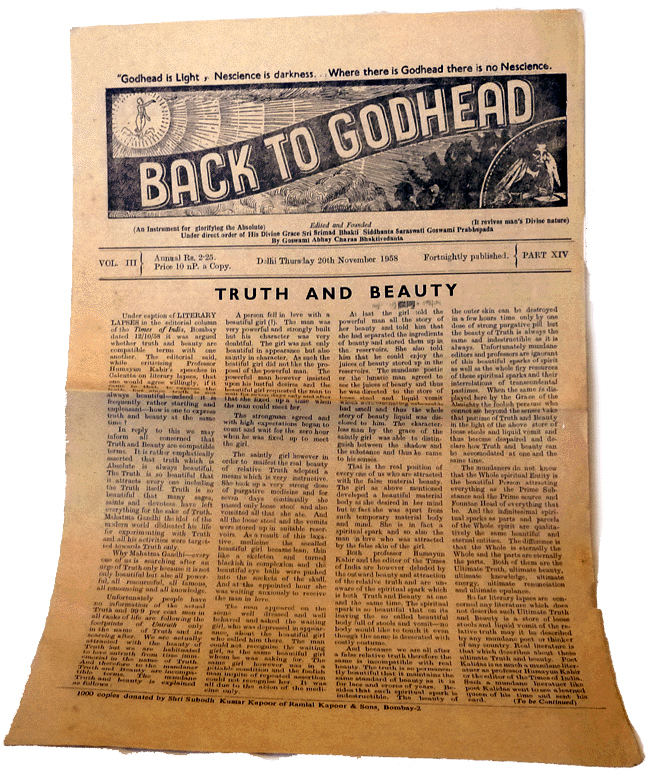 This is a very rare Back to Godhead magazine from Delhi, India that was written, published, and distributed by the Founder/Acarya of the International Society for Krishna Consciousness His Divine Grace A.C. Bhaktivedanta Swami Srila Prabhupada. This Back to Godhead is Vol. III, Part 14, printed in Delhi and dated Thursday, 20th November 1958. This is a very rare item. The Back to Godheads from this era are very, very few. I also have other wonderful memorabilia related to Srila Prabhupada and the Hare Krishna movement.
I am selling this Back to Godhead for $501.00 Your servant,
Jnana-caksusa dasa
Submitted by Jnana-caksusa dasa, Jun 07, 2013

Bringing faith and fun together with a delightful collection of hand-painted wooden toys designed to encourage imaginative play, facilitate spiritual instruction, and inspire devotion.
Little Devotee figures are durable, non-toxic, and specially shaped to make them easy for little hands to hold. Your child will be able to re-enact the adventures of heroes like Rama, Hanuman, and Prahlada, and to playfully partake in the pastimes of Krishna.
We invite you to visit us at www.littledevotee.com
Or call toll-free for more information (855) 630-2095
Submitted by Avril Heffernan, May 09, 2013
Tulasi Neckbeads

with Dazzling Gems for a Designer Look

I combine sacred Tulasi wood beads with the most wonderful colors and textures and energies from semi-precious beads to enhance your own personal aura.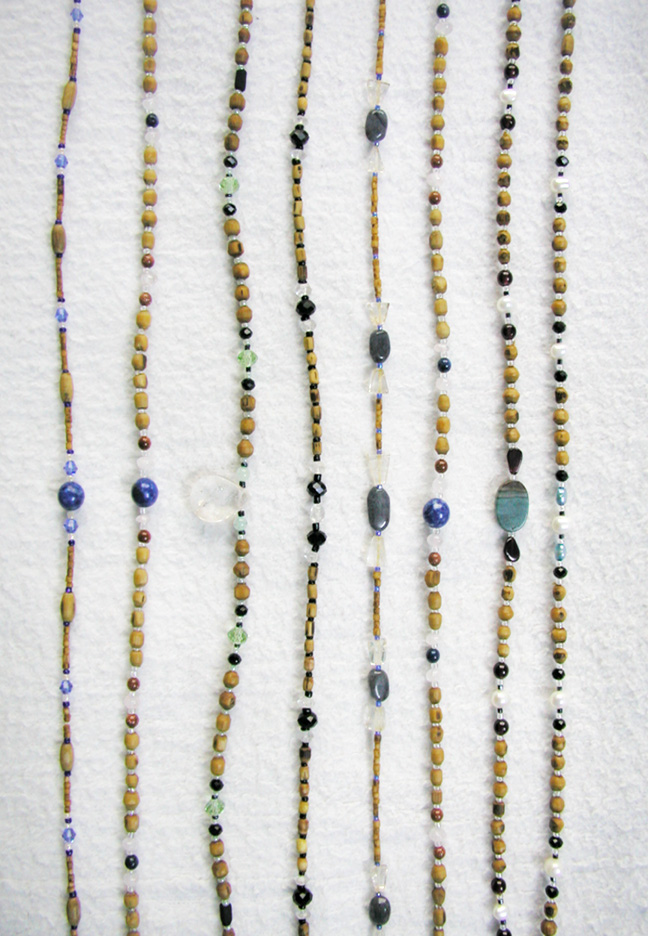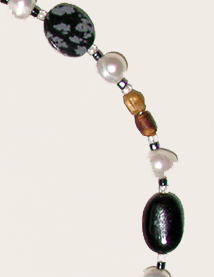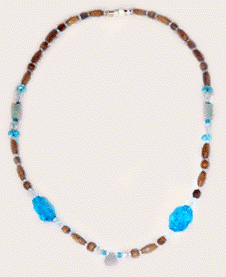 See my shop on Etsy.com: mallikasgiftshop
FACEBOOK page: Hare Krishna Tulasi Neckbeads
Look at pictures and movies of more designs available.

Email me with your color choices for your unique, one-of-a kind, Tulasi necklace: mallikadasi@gmail.com




Submitted by Mallika dasi, February 27, 2013
Srimad Bhagavatams

I have a variety of Srimad Bhagavatams for sale. There are original volumes as well as new volumes. If you are missing or in need of any canto please contact me. We are just asking for donations for any of these books.




Submitted by Andrea Perez del Solar, February 2, 2013
Srila Prabhupada's Letters

14 original signed letters by Srila Prabhupada. All in good condition as shown in photos. Selling as a lot for $1500 firm. I will not take lower offers.

Offer is only available to ship in the USA. US Postal Money Order only accepted as payment. Will ship only to a US address with restricted delivery. This means, you must present a photo ID that matches exactly the name you endorsed the Money Order with. FedEx requires a physical residential address.

Offer expires on December 31, 2012.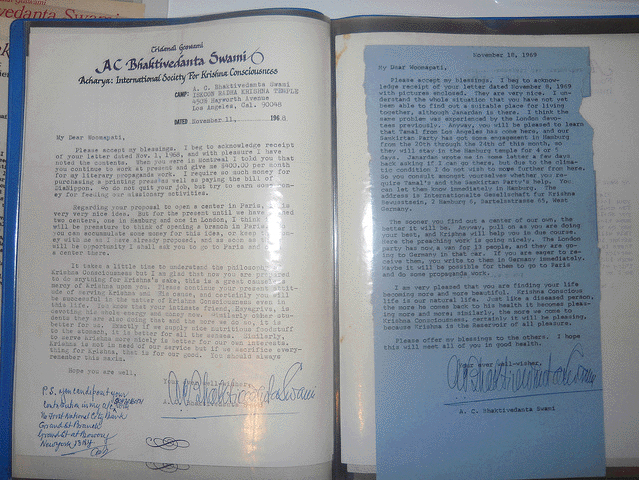 Questions can be sent to me at: astrea108@gmail.com
Best,
Mathura das

Submitted by Mathura das, December 4, 2012
Personalised Deity Dresses

I make personalised dresses for deities by hand embroidery on fabric from Sri Vrindavan Dham. Price is according to the size you want.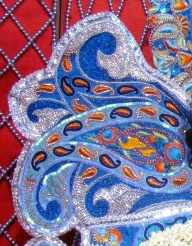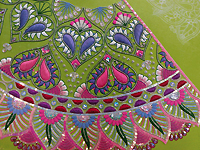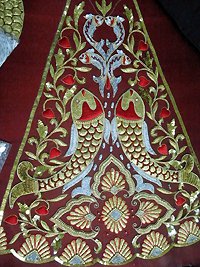 [Click two images on right for large version]
A typical Radha Krishna dress will include: 1. Shirt for Krishna 2. Chaddar (flair piece) for Krishna 3. Pant / dhoti for Krishna 4. Skirt / Hip piece for Krishna 5. Crown & effulgence (mukut & tej kiran) for Krishna 5. Blouse for Radharani 6. Skirt for Radharani 7. Chaddar for Radharani 8. Crown & effulgence (mukut & tej kiran) for Radharani 9. Embroidered Backdrop. Quality of work, uniqueness of design assured. Typical cost of dress set for 3ft deities $1300 onwards (price varies depending on actual size & design). Shipping costs extra at actual. Design samples will be shown for approval. Time required: 4 - 6 weeks from date of approved order. Please email me at jagushalin@gmail.com for more details / sample designs.
Your servant,
Sangini Indulekha devi dasi
Submitted by Sangini Indulekha devi dasi, November 30, 2012
Personal Letter of Srila Prabhupada's
Very, very rare letter by Srila Prabhupada from 1967 written in Srila Prabhupada's own hand. If you are interested contact me at (541) 543-3667. Thanks!
Hare Krishna!
Your servant,
Jnana-caksusa dasa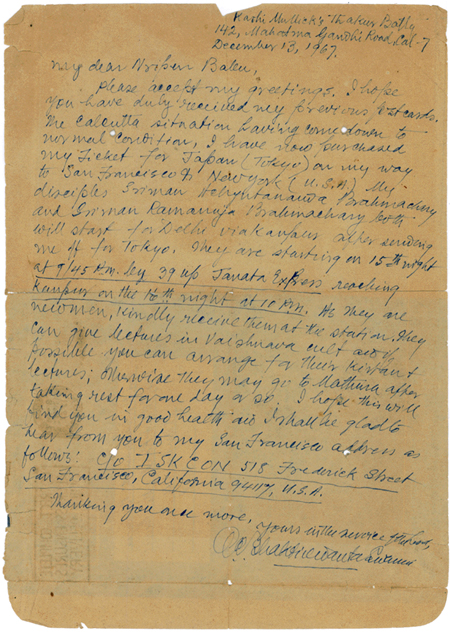 Submitted by Jnana-caksusa dasa, November 20, 2012
Syama's Altar Backdrops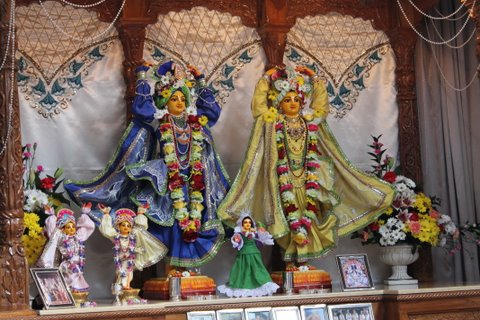 I make personalised backdrops for your home altars by painting or handcraft on fabric. For more information and pictures please check out my Facebook page: Syama's Altar backdrops. Price is according to the size you want.
Shyam Gouri devi dasi

Email: sgdasi@yahoo.co.uk.

Submitted by Shyam Gouri devi dasi, November 9, 2012
Now Available From Jagannatha Enterpises!
Four Intensive Matrix Studies of Krishna Consciousness
1. Four Principals Of Dharma/Duty – Austerity, Cleanliness, Mercy, Truthfulness (Front and Back)
2. Three Aspects Of God – Brahman, Paramatma, Bhagavan
3. Four Yoga Paths – Karma, Astanga, Jnani, Bhakti
4. The Modes of Nature – Goodness Passion Ignorance
Each chart contains:
Full color content on both sides
Comprehensive subject analysis
High quality durable coated paper
Easy to follow color-coded matrix layout
Essential philosophical aspects of KC presented
Great to share with devotees, yogis and the curious
Scriptural citations provided for follow up research
Aids in clear understanding key points very quickly
Distinguishes Vedas as the topmost source for Spiritual Wisdom
Economically priced for easy affordability and massive distribution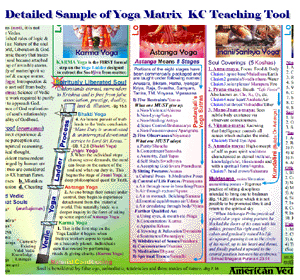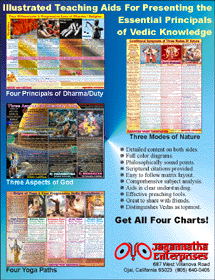 [Click for large images]
1 (Set of Four) $3 & $1(Shipping) – Total $4. – (Per piece price. $4.00)
3 (Sets of Four) – $6.5 & $2(Shipping) – Total $8.5 – (Per piece price. $2.84)
10 (Sets of Four) – $18 & $3 (Shipping) – Total $21. – (Per piece price. $2.10)
50 (Set of Four) – $75 & $15 (Shipping) – Total $90. – (Per piece price. $1.80)
These charts were first available at the May 2012 Los Angeles Prabhupada Festival and received by the devotees with great enthusiasm. They are now available to the greater Vaishnava Community from Jagannatha Enterprises.
Thank you,
Mayesvara dasa
md @ jagannatha.com
(805) 640-0405
Submitted by Mayesvara dasa (ACBSP), October 26, 2012
For Sale: Back to Godhead, Caitanya-caritamrta, Early Prabhupada Books
Back in February I let the devotees know about a preaching center here in Eugene, Oregon that has been started. I have some Back to Godheads, Caitanya-caritamrtas, and early (mostly first printings) of Srila Prabhupada's books for sale. The center is going good and to support it, I would like to sell these to help get a prasadam distribution business going. My plan is to do some catering/retail/perhaps food cart segwaying into a restaurant.
The first set of Back to Godheads are 242 in total and date from 1966 to 2008. The set is pretty complete from late 1969 onward. These are able to be seen here on this photobucket page.
The second set is 150 and is similar, having an issue from 1966 onward to 2008 but with less in total. I will be listing this set also individually on Ebay, so if you need some to fill your sets they are there. Here is the photobucket page for this set.
There are some covers missing and a few in both sets have some pictures cut out... not many but here and there you will find one an enthusiastic devotee may have gotten to with scissors. I also have another set that has 64 issues from 1969 to 2000's, if you are interested.
The Caitanya-caritamrtas are all first printing with the dust jackets that are in good to very good condition. The dust jackets have all been placed in protective mylar covers. There are Adi Lila Vol 3, Madhya Lila Vol 1-6, and Antya Lila 1-4. Photobucket page.
I also have some other first printing Caitanya-caritamrtas that I will be listing on Ebay if you are looking for a certain volume for your set. The early printings of Srila Prabhupada's books are the Bhagavad-gita, Nectar of Devotion, Teachings of Lord Chaitanya, and others. Here is the photobucket page.
If you would like to get these or any of them individually, let me know. My phone number is (541) 543-3667. Hare Krishna!
Your servant,
Jnana-caksusa dasa (HH Danavir Goswami)

Submitted by Jnana-caksusa dasa, October 21, 2012
Ratha Yatra Chariot for Sale
4 Wheels, axle, and remaining parts.

Wheels alone, $1000.
Axle and spare parts $500.
Or $1,500, for everything.

Please contact Jagannath Swami das at (707) 462-4672

Click for larger images: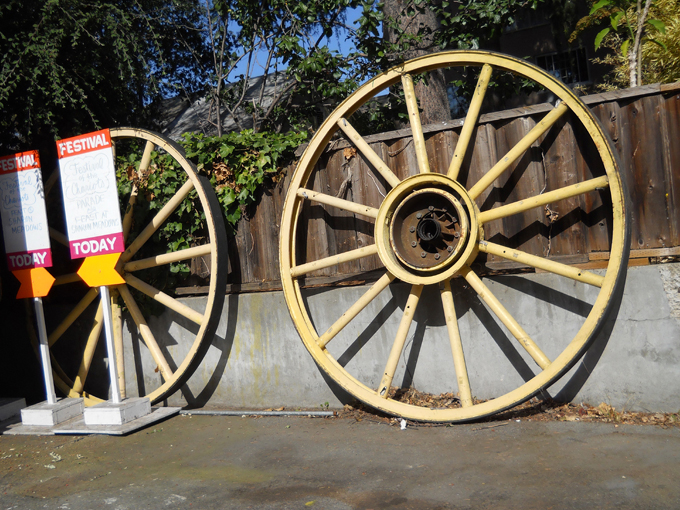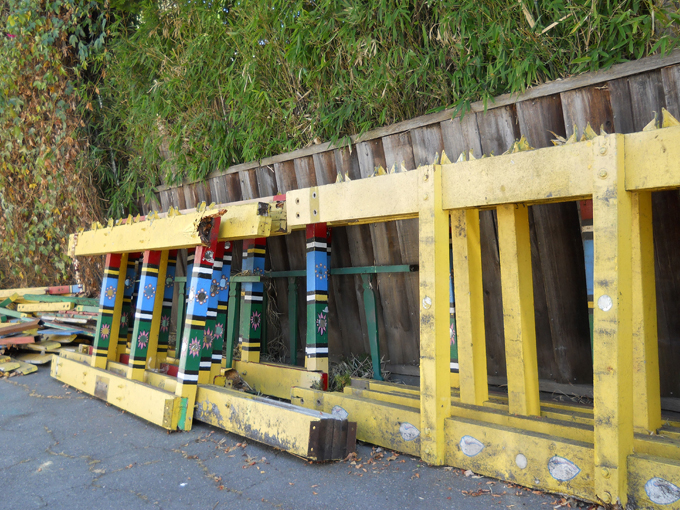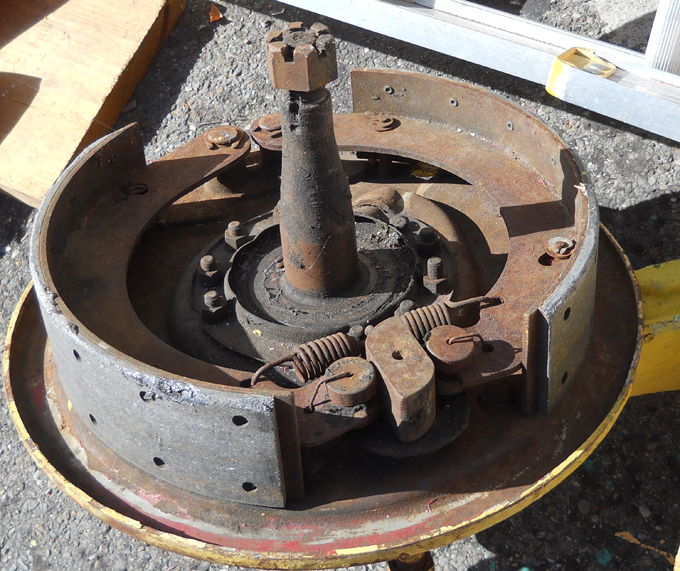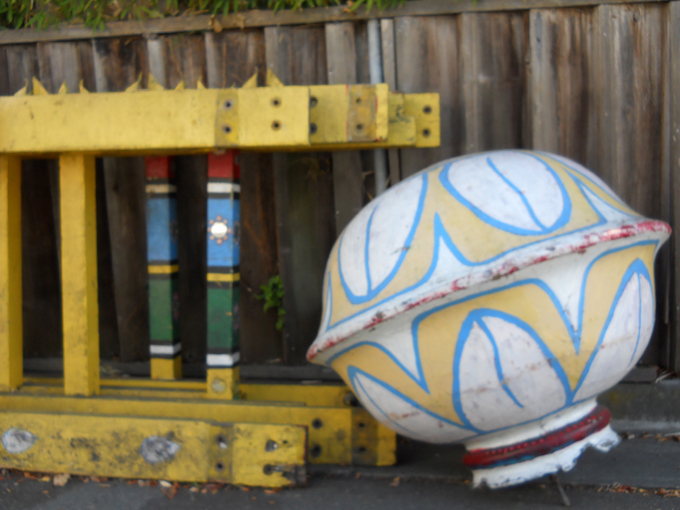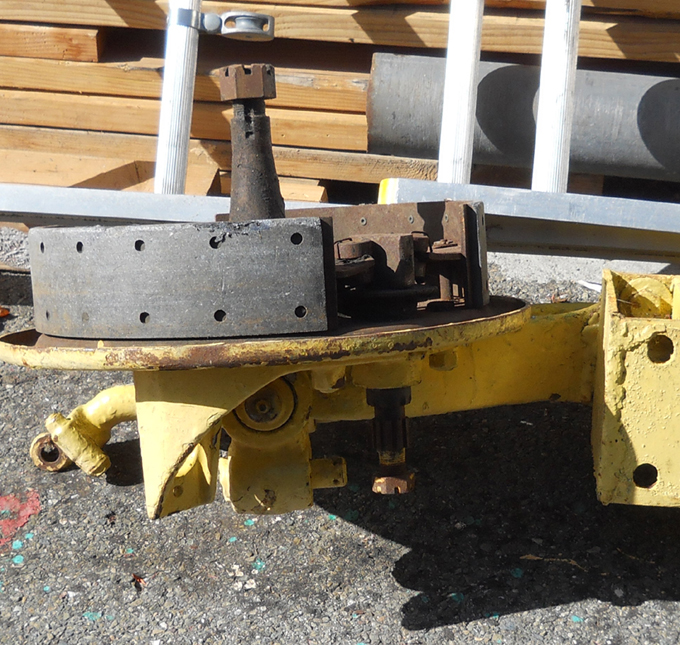 Submitted by Jagannath Swami das, October 27, 2012
1992 Heavy Duty Ford Club Van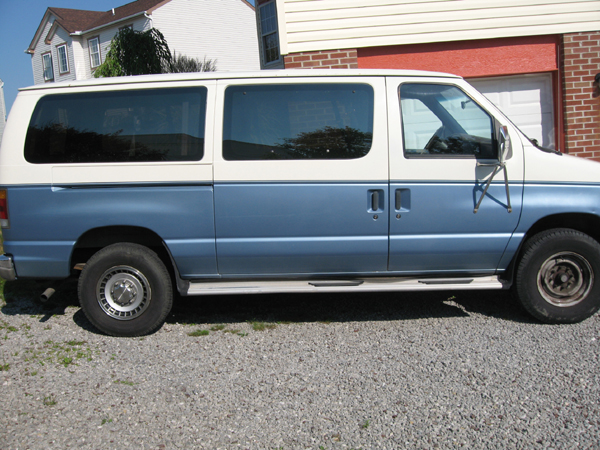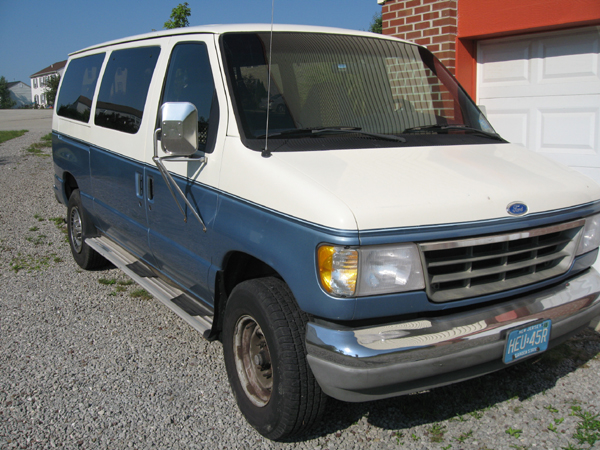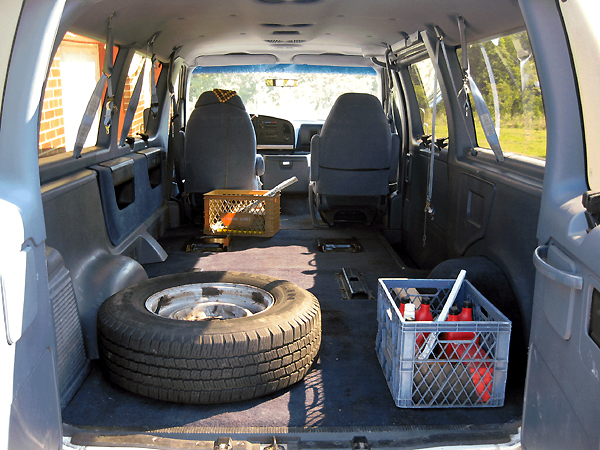 [Click for large image]
very good condition
asking $2,100
seats 7 people comfortably
220,000 miles
removable seats to use as cargo van
7.38L Diesel V8 Engine
Electronic 4-Speed Automatic Transmission
Power Brakes
Rear Antilock Brake System
22 Gallon Fuel Tank
Twin-I-Beam suspension
All-Season Radial Tires
Halogen Headlights
Chrome Bumpers
Sliding Side Cargo Door
Swing-Out Rear Doors
Swing-Out Side/Rear Door Glass
Privacy Window Tinting
Class 1 Trailer Tow Hitch
AM/FM Stereo & Cassette
Digital Clock
Dual Cloth Captain's Chairs
Chrome Grille
Interval Windshield Wipers
Gas Filled Shock Absorbers
Sun Visors
Air Conditioning (does not work currently... probably needs fluid)
Power Door Locks
Power Windows
138 Inch Wheelbase
Engine Block Heater
Running Boards
Spare Tire & Wheel
includes extra oil filter & oil for next oil change

Phone Hrishikesh das (Pennsylvania) :
(724) 693-8752 or Cell: (412) 600-5083


Posted by Hrishikesh das, September 6, 2012
PADA SEVANA Book Reprint
Mail orders welcome
PADA SEVANA (Serving the Lotus Feet), a book by Padmalochan das, is now in reprint. Printers promised that the book will be available by RADHASTAMI.
This book is giving description and pictures of signs on the lotus hands and feet of Radha-Krishna and Lord Chaitanya, Nityananda and Advaita. PADA SEVANA is 43 pages, good quality printing and binding.
Mail orders are welcome now, minimum order is 10 books. Price of a single book is 30 Rs, for 10+ copies 25 Rs per book. One package (printer's packing) contains 20 books and cost 500 Rs + shipping cost. When you order please provide the full detailed mailing address with zip code. Payments accepted via PayPal or if it is more convenient for you to wire, I can provide the details on request.
Hope this meet you all happy in your devotional services.
Hare Krishna!
your servant, Vrindavana lila dasi
Padmalochan.ACBSP@pamho.net

Posted by Vrindavana lila dasi, August 01, 2012
Sitar For Sale
Fine quality professional sitar, made in the Vilayat Khan style, with a beautiful, sweet sound. Made from aged toon wood with mother-of-pearl inlays. A light form-fitting sitar case is included. $995. plus shipping (I live in Saint Augustine, Fl, USA).
Questions? Email lencohen18@gmail.com or telephone:
(904) 794-4026.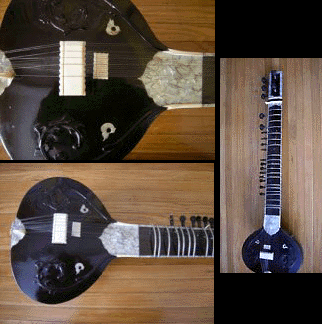 Posted by Len Cohen, April 14, 2012
Six Inch Gaura Nitai Deities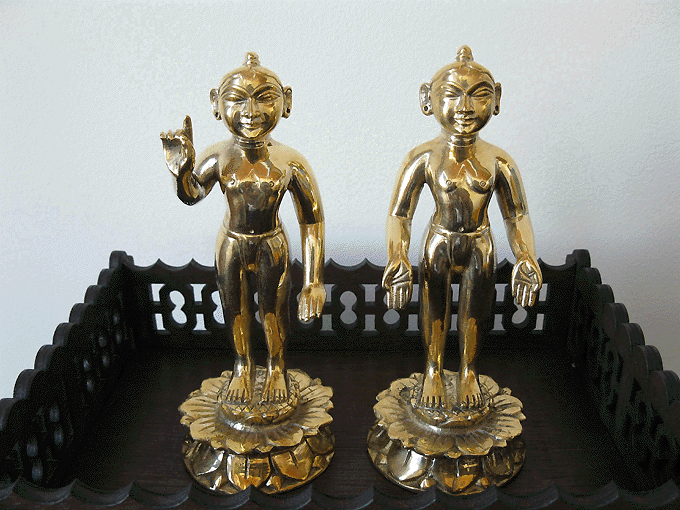 This listing is for beautiful deities of Gaura Nitai measuring 6" in height (lotus base included). These deities are cast in high quality bronze in Vrindavan. The deities were custom-made, and the deities and their bases are cast solid. Overall, they are of superb quality... nothing close to deities that are ready made and commercially available. The figures are plump, with beautiful faces that can be painted, or left as is.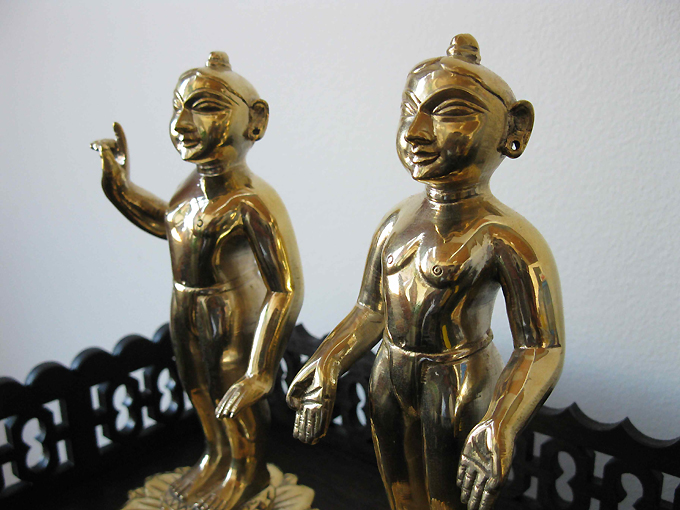 The deities' poses were modeled after the famous Gaura Nitai deities of Pathbari, West Bengal in India.
For questions, please contact srichak108@gmail.com. Please see the ad on eBay here for purchasing. Sincerely, Sridhara dasa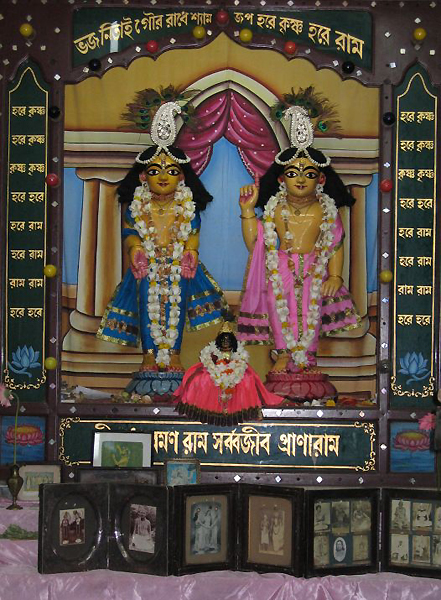 Pathbari Gaura-Nitai

Posted by Sridhara dasa, March 24, 2012
Books of
His Divine Grace A.C. Bhaktivedanta Swami
Book Sets
Original Letters Books (5 books), Perfect Condition - $500 minimum (or highest offer)
Srila Prabhupada Siksamrita Set (3 books), Perfect Condition - $108 or best offer
Collected Teachings Set (7 books), Perfect Condition - $199 or best offer
Collected Lectures on Bhagavad-gita Set (7 books), Perfect Condition - $199 or best offer
Collected Lectures on Srimad Bhagavatam Set (11 books), Perfect Condition - $269 or best offer
Sri Caitanya Caritamrta - 1975 edition, 17 volumes, *Unedited*, Excellent Condition - $2,000 minimum (or highest offer)
Freight will be added depending upon your location.
Contact Dulal Chandra dasa dulal@krishnabhajan.com

Posted by Dulal Chandra dasa, March 24, 2012
Original Srimad Bhagwatam for Sale
I have volume three of the first Canto of the original Srimad Bhagwatam which Srila Prabhupada brought with him from India in 1965, published in India by the League of Devotees. This particular book has Satsvarupa das Goswami's name and address written down, which means it used to belong to him, and it is probably one of the ones he received personally from Srila Prabhupada's own hand back in 1966 in New York.
I wish I didn't have to sacrifice it, but I have to. I'm asking for $2,800 USD, but I'm including a few little pieces of hair from Srila Prabhupada's transcendental lotus head. A very kind god-sister (Prabhupada's disciple) was merciful to me and gave me a few of those genuine original little pieces of hair from Srila Prabhupada's own lotus head, and I've had them on my altar as a very treasureable object of love and worship. Although I am not giving them all out, I will include a few little pieces with the book in exchange for the donation I need.
Please call me at (310) 945-8848 or (310) 204 2523 or e-mail me at eloinasosa@sbcglobal.net.

Posted by Jaya Gouranga dasa, February 3, 2012
Balaji Textiles in Mayapur
Hi, my name is Rasabihari dasa, I have a shop in Mayapur in front of the Main Gate at the ISKCON temple. We sell ready made clothes, dhoties, kurtas, saris, punjabis, and other clothes as well.
Please come visit my shop, we will give cheaper prices than other shops for devotees.
My number is (+91)9564242119
Your servant,
Rasabihari dasa

Posted by Rasabihari dasa, November 17, 2011
Beautiful Blue Tilak Mrdanga For Sale
Only used a couple of times in a small temple program and used at home. Fiberglass mrdanga is in new condition with a few tiny blemishes (it came to me that way). Only selling to pay the bills. Will ship in same box that the mrdanga was shipped to me in.
Purchased for $180.00. For sale for $120.00 - buyer also pays shipping charges.
Contact me at kumudavana@aol.com

Posted by Cynthia, September 22, 2011
VENU-KRISHNA STATUE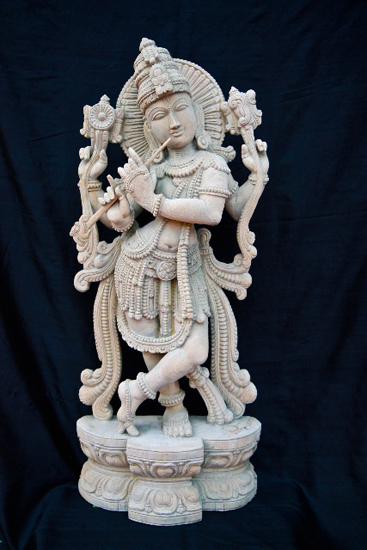 Beautiful hand-carved teak Venu-Krishna statue with weathered patina finish. 35 inches tall by 15 inches wide. Intricate detail.
$595.00
(Click for larger images)
CONTACT: Dvijapriya dasi
Email: dianegorrick@aol.com
Phone: (386) 462-5115

Posted by Dvijapriya dasi, September 12, 2011
190 New Vrindaban Books Close Out Sale
Must Sell
Copies of:
Hare Krishna Explosion by Hayagriva dasa
Higher Taste Cookbook
Prabhupada's Palace of Gold Souvenir Book
Prabhupada Nectar by Satsvarupa dasa Goswami and
dozens of books by Kirtanananda Swami
Clearing out inventory. Cheapest Prices.
To view items, please visit my Ebay Store.

Posted by Hrishikesh dasa, July 30, 2011
Summer Sapphire Sale
Balaji Natural Gems, a subsidiary of the Vedic Cultural Fellowship, is offering a Summer Special on Natural Sapphires of all colors in sizes from 2-5 carats. Prices are discounted 30% from our regular low wholesale prices from now through July 31st. A great opportunity to own a beautiful and powerful gem to strengthen Jupiter (yellow sapphire), Venus (white sapphire) or Saturn (blue sapphire) to reap the healing benefits they will bring into your life.

All of our sapphires are guaranteed to be unheated or treated in any way. As Clarity is always the first consideration in choosing a powerful gem for enhancing planetary energy, all of our sapphires are always of the absolute finest clarity (making them jyotish quality). Choose from an array of colors from the lightest and most subtle shades to the deepest shades and tones of color imaginable. Such gems are described in the Vedas as having the power to enhance love, wealth and prosperity, as well as to protect the wearer from adversity.
We thank you for taking the time to read this and if we can be of service to you with this offering of superb sapphires, please don't hesitate to contact either one of us personally.
Sincerely,
Jennifer & Howard Beckman
The Vedic Cultural Fellowship
Ocala, Florida USA
352-629-3156
hamsa@vedicworld.org
yogamayadevi@vedicworld.org


Posted by Hamsavatar das, July 1, 2011
Deities For Sale
We are asking $6,500.00 for the Radha and Krsna Deities. The Nathaji deity is being sold separately for $3,500.00. They are in Montana and can be picked up there, or we can ship them to the buyer FOB.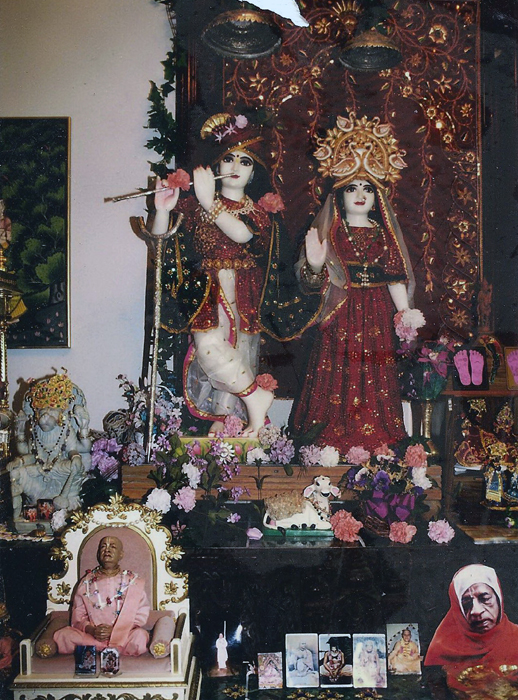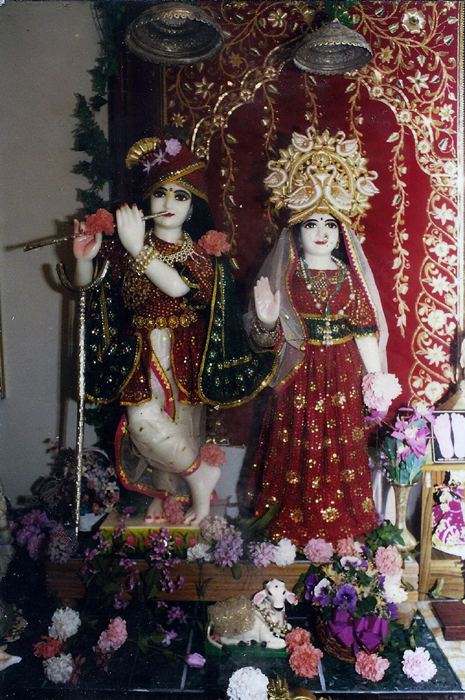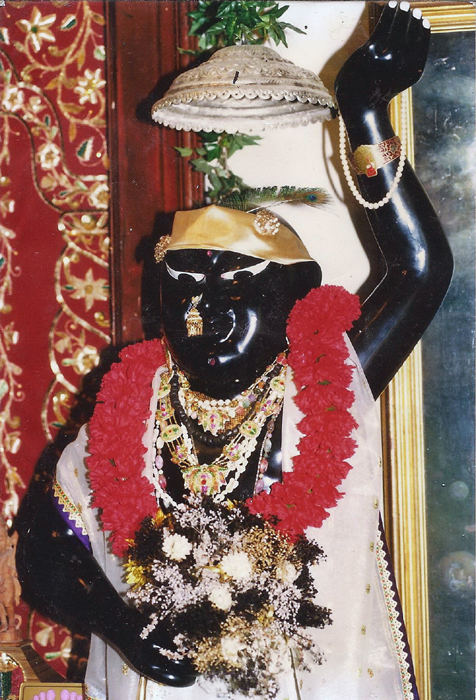 (Right click, 'view image' for large pictures)

Visvakarma das (Bobby Hebert)
Mobile: 289.244.4315
Text: 289.244.4315
Skype: bobbyhebert

Posted by Visvakarma das, January 11, 2011

| The Sun | News | Editorials | Features | Sun Blogs | Classifieds | Events | Recipes | PodCasts |

| About | Submit an Article | Contact Us | Advertise | HareKrsna.com |
Copyright 2005, 2014. HareKrsna.com. All rights reserved.