Lord Caitanya and Guru Nanak in Jagannatha Puri, Part 2

BY: SUN STAFF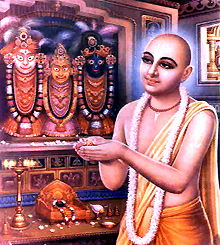 Dec 15, CANADA (SUN) — In an article for the Orissa Review written in 2003, author Gitarani Praharaj describes the pastimes of Guru Nanak and Lord Chaitanya in Jagannatha Puri. Praharaj, a Curator of Archaeology for the Orissa State Museum in Bhubaneswar, offers many of the same comments given by H.H. Srila Bhakti Sravan Tirtha Goswami, which were included in yesterday's segment. In fact, some of the content in Praharaj's article appears to have been taken directly from H.H. Bhakti Sravan Tirtha Maharaja's narration, to which Praharaj adds some details about this historical pastime, including a rather peculiar remark about Lord Caitanya.
FULL STORY


Jai Srila Prabhupada!

BY: SUDARSHAN DASA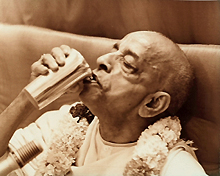 Bhaktivedanta Book Trust

Dec 15, SINGAPORE (SUN) —

"That is my habit. If I see that the water tap is open, I immediately close it. I do not like that the water is wasted, you see, because I think that "The government is spending so much money for supplying water, and this water is unnecessarily being lost. So why should it be?"

(Lecture, February 8, 1969, Los Angeles)
FULL STORY


The Ramayana of Valmiki, Part 496

BY: SUN STAFF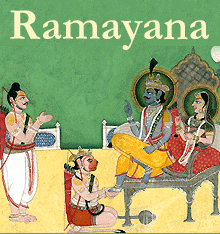 Dec 15, CANADA (SUN) — A serial presentation of 'The Epic Journey of Rama'.

Book VI - Canto CXVI - The Meeting

"He looked upon that archer chief
Whose full eye mocked the lotus leaf,
And thus the noble Vánar spake:
"Now meet the queen for whose dear sake
Thy mighty task was first begun,
And now the glorious fruit is won.
O'erwhelmed with woe thy lady lies,
The hot tears streaming from her eyes.
FULL STORY



BY: SUN STAFF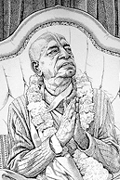 Dec 15,
CANADA (SUN)
Audio files with transcripts recorded on this day.
Please visit PrabhupadaVani.org for audio files and transcripts.
December 15, 1973, Los Angeles
Morning Walk
"You are atheist. You are posing yourself atheist. Atheist means one who does not believe in God. That's all right. Now what do you mean by God?"
December 15, 1973, Los Angeles
Srimad-Bhagavatam 1.15.37
"So if the government is by the people, yes, you select your representative. If you are a fool, then you will select another fool."
December 15, 1974, Bombay
Srimad-Bhagavatam 3.26.03
"A man will claim to become God. But as I am requesting Krsna to show the virad-rupa, similarly, if some fool accepted the another fool as God, he should request him, 'Please show your virad-rupa.' Then accept him. Otherwise don't accept."
December 15, 1976, Hyderabad
Bhagavad-gita 16.7
"Real self-interest is that "I am spirit soul, I am son of God, my father is very, very rich, opulent. I have given up my father's association and therefore I am suffering."

Bhaktivedanta Book Trust. HDG A.C. Bhaktivedanta Swami Srila Prabhupada.

Lord Caitanya and Guru Nanak in Jagannatha Puri

BY: SUN STAFF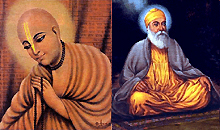 Dec 13, CANADA (SUN) — In a paper entitled Guru Nanak in Oriya Sources, author Raghubir Singh Tak describes an Oriyan palm leaf manuscript preserved in the Jagannath Temple Museum, which documents the point in history when Lord Caitanya Mahaprabhu and Guru Nanak were visiting the holy dhama at Puri Jagannath at the same time, along with other associates. Raghubir Singh Tak, formerly a Professor in the Department of Guru Nanak Studies, GNDU, describes the manuscript:
FULL STORY


Jai Srila Prabhupada!

BY: SUDARSHAN DASA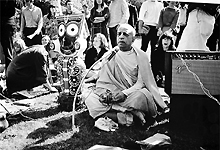 Bhaktivedanta Book Trust

Dec 13, SINGAPORE (SUN) —

"A pure devotee can create Vaikuntha or Vrindavana anywhere simply by chanting the glories of the Lord without offense."

(Srimad Bhagavatam 4.30.33)
FULL STORY


The Ramayana of Valmiki, Part 495

BY: SUN STAFF

Dec 13, CANADA (SUN) — A serial presentation of 'The Epic Journey of Rama'.

Book VI - Canto CXV - Sítá's Joy

"The Vánar chieftain bowed his head,
Within the walls of Lanká sped,
Leave from the new-made king obtained,
And Sítá's lovely garden gained.
Beneath a tree the queen he found,
Where Rákshas warders watched around.
FULL STORY


Krishna Carvings at Banteay Srei

BY: SUN STAFF

Dec 11, CANADA (SUN) — Among the many Vaishnava ruins in Cambodia, the 10th century temple of Banteay Srei in Angkor has several of the most beautiful carved renditions of Sri Krsna found anywhere in the country. The Lord is depicted in two famous lila scenes, one from the Bhagavat Purana and one from Mahabharata.
FULL STORY


Jai Srila Prabhupada!

BY: SUDARSHAN DASA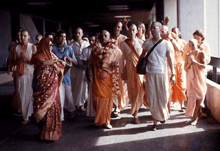 Bhaktivedanta Book Trust

Dec 11, SINGAPORE (SUN) —

"Everyone should take advantage of the wandering devotees, whose only business is to deliver conditioned souls from the clutches of maya."

(Srimad Bhagavatam 4.30.37)
FULL STORY


Bhagavatastakam of Rasikananda, Verse 7

BY: DR. DEMIAN MARTINS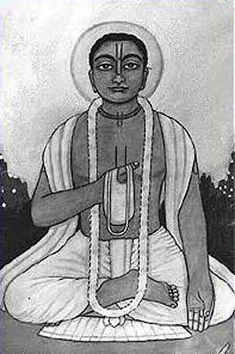 Dec 11, INDIA (SUN) —

Text 7

premasvada-parayanan hari-pada-sphurti-sphuran-manasan
anandaika-payo-nidhin rasa-samullasi-smita-sri-mukhan |
dhanyan sac-caritaugha-nandita-janan karunya-purasrayan
vande bhagavatan iman anulavam murdhna nipatya ksitau || 7 ||

Relishing love of God as the supreme shelter, they are a unique ocean of bliss. Their hearts sparkle at the sight of Lord Hari's lotus feet. Their beautiful smiling faces shining due to attachment to the Lord, these virtuous souls delight everyone with their saintly behavior and are a stream of mercy to those who take their shelter. Bowing my head on the ground, I respectfully glorify these great devotees of the Lord at every moment.

FULL STORY


The Agony of Separation: O Srila Prabhupada!
O Master!

BY: SRI VRINDAVAN DAS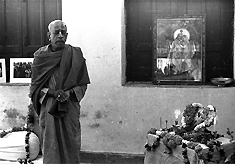 Dec 11, SRIDHAM MAYAPUR (SUN) — Viraha Astaka: Eight Prayers in Separation from My Spiritual Master by His Divine Grace A.C. Bhaktivedanta Swami Prabhupada, December 1958, translated from Bengali by Dasaratha-suta dasa.

First Octet: The Flood of Krishna Prema
1) O Srila Prabhupada! You personally suffer
to see the suffering
of the fallen conditioned souls.
On this anniversary of your separation
I am utterly despondent.

2) "The ocean of mercy was previously held back by a dam,
but Lord Nityananda personally cut a channel in it
and thereby released the outpouring flood
of pure ecstatic love of God."
(from Lochana dasa's song "Nitai Guna Mani")
FULL STORY


ISKCON Wants MHA to Consider Relaxed Visa Norm for Ageing Members

BY: AMAN SHARMA

Dec 11, NEW DELHI (ET) — The International Society for Krishna Consciousness (Iskcon) has requested the Union home ministry to consider a relaxed visa regime for a small group of its ageing foreign devotees wishing to spend their last years in India.

Iskcon governing body commission member GK Goswami and president of Iskcon, Baroda, BG Das, met MoS Home HP Chaudhary on Tuesday and requested for a considerate view to be taken of the cause of their some foreign devotees who wish to breathe their last in India. Iskcon pointed out to the minister that it has a group of foreign devotees who are aged, have spent long time in India with it and now wish to be here till they die.
FULL STORY