Prasadam - Squash, Part 2

BY: SUN STAFF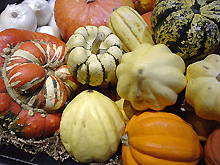 Aug 29, CANADA (SUN) — A journey through India: border to border, bhoga to prasadam.
Though always called a vegetable when it comes to cooking, botanically speaking, squash is really a fruit, because it's a vessel for the plant's seeds. The earliest known evidence of squash was discovered by anthropologists in the Peruvian Andes, where seeds were discovered that have been dated to somewhere between 5,000 and 10,000 years old. Of course, we know that Radharani cooked squash for Sri Krsna in Vrindavan, and the ingredient has undoubtedly been used in prasada preparations for untold ages.
FULL STORY


If We Can Please Radharani We Can Very Easily Understand Krsna

BY: SRI VRINDAVAN DAS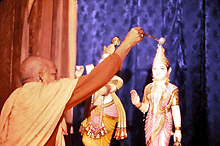 Bhaktivedanta Book Trust

Aug 29, SRIDHAM MAYAPUR (SUN) — Srila Prabhupada: Rādhārāṇī is very dear to Kṛṣṇa, and if we approach Kṛṣṇa through the mercy of Rādhārāṇī, we can easily attain Him. If Rādhārāṇī recommends a devotee, Kṛṣṇa immediately accepts him, however foolish he may be. Consequently in Vṛndāvana we find that devotees chant Rādhārāṇī's name more often than Kṛṣṇa's. Wherever we go in India we will find devotees calling, "Jaya Rādhe." We should be more interested in worshiping Rādhārāṇī, for however fallen we may be, if somehow or other we can please Her, we can very easily understand Kṛṣṇa.
FULL STORY


Sri Bhakti Ratnakara,
Part 14

BY: SUN STAFF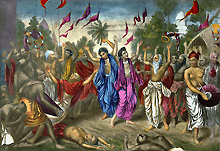 Aug 29, CANADA (SUN) — A serial presentation of Sri Bhakti Ratnakara by Srila Narahari Cakravarti Thakur.

Chapter One (continued) - The biography of Sri Jiva

Sri Jiva had grown very discontent in Gauda and he was pulled by his attractions to his uncles in Vrndavana.684

The visit to Vrndavana by Sri Jiva was a peculiar incident.685
FULL STORY



BY: SUN STAFF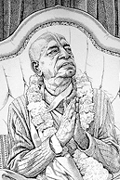 Aug 29,
CANADA (SUN)
Audio files with transcripts recorded on this day.
Please visit PrabhupadaVani.org for audio files and transcripts.
August 29, 1973, Los Angeles
Bhagavad-gita 2.26-27
"Because those who are not Krsna conscious, they are hovering on the mental plane. They cannot, there cannot be any fixed up morality, honesty, dishonesty."
August 29, 1975, Vrndavana
Srimad-Bhagavatam 6.1.62
"These living entities, these conditioned souls who has come to this material world -- the only reason is that they want to satisfy the senses, manah-sasthanindriyani. Therefore there is struggle for existence."

Bhaktivedanta Book Trust. HDG A.C. Bhaktivedanta Swami Srila Prabhupada.


BY: SUN STAFF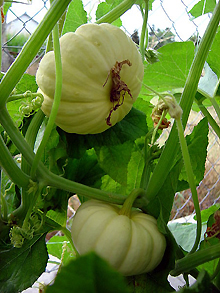 Aug 27, CANADA (SUN) — A journey through India: border to border, bhoga to prasadam.
One of the very nicest vegetables to use when cooking for Sri Krsna is squash. Many references are found in sastra to this excellent foodstuff, and Srila Prabhupada talked about it on several occasions. He generally refers to it as squash, while the Sanskrit term found most often, in Sri Caitanya-caritamrta for example, is tumbi. In fact, there are a great many different Sanskrit terms for squash – as many as there are varieties that have been grown in India over the ages.
FULL STORY


Śrī Guru: Dear to Kṛṣṇa & Non-Different
from Him

BY: SRI VRINDAVAN DAS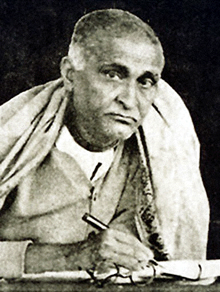 Bhaktivedanta Book Trust

Aug 27, SRIDHAM MAYAPUR (SUN) — From Śrīla Prabhupādera Upadeś- āmṛta, a compilation of Śrī Srimad Bhaktisiddhānta Sarasvatī Ṭhākura Prabhupāda's instructions, in question-and-answer form.

Question 1: Who is known as harijana*?

*'Hari' is the Supreme Lord; 'jana' refers to those who are His people. In other words, harijana refers to the true devotees of God. A contemporary use of the word was introduced during India's Independence Movement in an attempt to elevate the social status of those born in lower castes. For this reason, the original meaning will be elucidated here.
FULL STORY


Vyas puja Offering 2016

BY: ADHIYAJNA DAS

Aug 27, VANCOUVER, BRITISH COLUMBIA (SUN) — Offered at Vancouver ISKCON Mandir.

The Most Valuable Jewel

O Jewel of Beauty on the garland of the Brahma Madhva Gaudiya Sampradaya
having the same color as the rain laden cloud, you are heavy with daya
your brilliant rays of instruction free us from our attachment to our kaya
Srila Prabhupada, O Perpetual Recipient of humble obeisances from Maya
FULL STORY


The Appearance of
His Divine Grace

BY: ROCANA DASA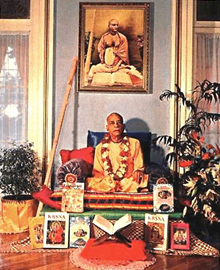 Aug 25, CANADA (SUN) — The glorious Appearance day of HDG A.C. Bhaktivedanta Swami Srila Prabhupada is observed on August 26th.
In 1896, His Divine Grace A. C. Bhaktivedanta Swami Prabhupada made his appearance in Calcutta, Bengal. He was given the name Abhay Carana by his Vaisnava father, Gour Mohan De, whose principle desire for his son's spiritual future was for him to become a pure devotee of Lord Sri Krsna, the ultimate goal of Vaisnavism.
FULL STORY


Srila Prabhupada
As He Is

BY: SUN STAFF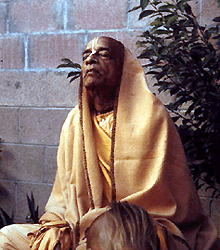 Aug 25, CANADA (SUN) — Srila Prabhupada's Lecture on Srila Bhaktisiddhanta Sarasvati's Appearance Day, Feb 7, 1969, Los Angeles.

"Bhaktivinoda Thakura organized this Krsna Caitanya's movement in pure form from Mayapur. He published many books and papers, Sajjana-tosani. When he passed away in 1914, at that time, he entrusted the matter to Siddhanta Sarasvati Thakura, that "I am going, my work unfinished, about this Caitanya Mahaprabhu's movement. You take charge of it." So he took very seriously the word of Bhaktivinoda Thakura.
FULL STORY


Departure of the Jaladuta

BY: SUN STAFF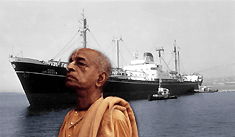 Aug 25, CANADA (SUN) — The observance, according to the Vaisnava calendar, of the days of Srila Prabhupada's transcendental journey aboard the Jaladuta

Wednesday, August 25 to Monday, August 30, 1965

Between Wednesday, August 25 and Monday, August 30, 1965, Srila Prabhupada's Jaladuta journal falls silent for six days. On the seventh day, August 31, the silence is broken with these simple words, "Passed over a great crisis on the struggle for life and death." (Continued next page)
FULL STORY


Sri Guru-vandana

BY: SUN STAFF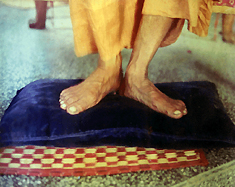 Aug 25, CANADA (SUN) —

sri-guru-carana-padma, kevala-bhakati-sadma,
bando mui savadhana mate
jahara prasade bhai, e bhava toriya jai,
krsna-prapti hoy jaha ha'te

The lotus feet of our spiritual master are the only way by which we can attain pure devotional service. I bow to his lotus feet with great awe and reverence. By his grace one can cross the ocean of material suffering and obtain the mercy of Krsna.

FULL STORY


A Review of "Swami
in a Strange Land"

BY: ROCANA DASA

Aug 23, CANADA (SUN) — I was recently asked to review the new book by Yogesvara das (Joshua Greene), Swami in a Strange Land: How Krishna Came to the West. The request was made by my godbrother, Devi Deva das, who has been helping to promote the book.

In my conversation with Devi Deva das, I attempted to make him aware that over the years, I have developed a philosophical perspective on the subject of who Srila Prabhupada is, and I've articulated that position in many articles. Expecting what kind of book this was going to be, and suspecting there's a good chance I would disagree with its general philosophical tone, I somewhat reluctantly agreed to review it. I've now done so and as anticipated, found the book was basically disappointing.
FULL STORY