Falling Off the Cliff with
Krishna West and
the GBC Body

BY: JAYA MADHAVA DAS (ACBSP)

Apr 27, MOSCOW, RUSSIA (SUN) — Did the GBC Body just throw HDG Srila Prabhupada's instructions and standards for Krsna Consciousness under the bus again?
Well, it's no surprise the GBC Body has again given their rubber stamp of approval to Hridayananda dasa Goswami (HDG) and his questionable, compromised Krishna West program... but they have. This is unbelievable and a road to ruin.
What the GBC should have done is say to Hridayananda, 'Preach as you wish, as we can't stop you, but we can't bless or approve such preaching officially under the ISKCON umbrella. ISKCON was set-up by Srila Prabhupada, it's his movement, his standards and instructions for his temples. Sorry, but we have to protect his ISKCON by enforcing his strict set of standards and practices for his temples! If you want to do this Krishna West we can't stop you, but we can't approve or accept it. So go in peace, without us.
FULL STORY


Writing Books in Srila Prabhupada's Service

BY: SRIDHARA SRINIVASA DAS

Apr 27, INDIA (SUN) — Lord Sri Caitanya Mahaprabhu incorporated two principles from each of the four Vaishnava sampradayas. Out of all of these principles, the most important one is Vaishnava seva. Hence the opportunity devotees get to serve other devotees of Lord Krishna is a stepping stone to achieve the desired success of human life. This is the foundation of all Vaishnava sampradayas, especially the Gaudiya Vaishnava sampradaya. All Gaudiya sampradaya Acharyas of the past and the present preached and practiced this core aspect of devotional.
FULL STORY



BY: SUN STAFF

Apr 27, CANADA (SUN) —
The following video entitled "ISKCON'S Sahajiya Flirt", produced by Hanuman das, summarizes evidence and arguments on Sacinandana's Swami's mayavada falldown: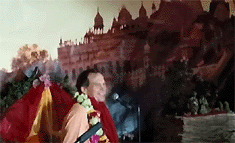 FULL STORY


The Story of King Hariścandra, Part 7

BY: ISVARA DASA

Apr 27, VRINDAVAN DHAM (SUN) — After this incident when King Hariścandra was living in his own city the great sage Viśvāmitra arrived there one day and asked the King to donate for the marriage ceremony. The King then replied, "O twice born! Please tell me what exactly you desire to have. Even if I am unqualified to fulfill your desire, I will certainly try to fulfill it." Then sage Viśvāmitra asked King Hariścandra to give his entire Kingdom including the horses, elephants, chariots, treasury in charity. King Hariścandra became perplexed for a while but nevertheless he donated his entire Kingdom to the twice born. Then the sage asked the King to give the appropriate dakṣiṇā for the charity, because Manu has said charity without dakṣiṇā is useless.
FULL STORY


Pure Where Did That Come From - Edit

BY: BHAKTA TORBEN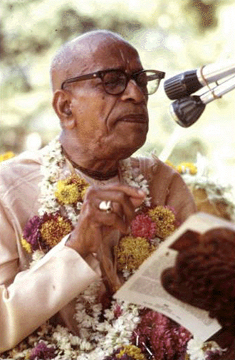 Bhaktivedanta Book Trust
Apr 27, DENMARK (SUN) — Bhagavad- gita As It Is 18.68.
Original, authorized 1972 edition:
"For one who explains the supreme secret to the devotees, devotional service is guaranteed, and at the end he will come back to Me."
Original, authorized 1968 edition:
"For anyone who explains this supreme secret to the devotees, devotional service is guaranteed, and at the end he will come back to Me."
FULL STORY


Parishads: Srila Abhirama Thakura

BY: SUN STAFF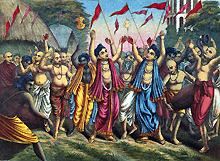 Apr 27, CANADA (SUN) — The Appearance Day of Srila Abhirama Thakura (Sri Rama dasa) is observed on April 29th.
He who was previously known as Sridama is today Abhirama Thakur. He picked up a piece of wood that it took 32 men to lift. (Gaura-ganoddesha-dipika 126)
FULL STORY


If I Can Just Give Up
My Puffed-up Arrogance

BY: MAHANANDA DASA

Apr 25, FLORIDA, USA (SUN) — Srila Prabhupada is part of a transcendental world and in this spiritual atmosphere there are still ideas about women, marriage, relationships, intelligence, friendship, etc., and Krsna is there and He has created spiritual standards of life to live by. So when someone here on earth who resides in the spiritual atmosphere is talking about some seemingly ordinary subject, we can not say that because we cannot find that exact quote in the written scriptures, it is part of the material vibration.
FULL STORY


Sacinandana Swami & Ramesh Baba

BY: SUN STAFF

Apr 25, CANADA (SUN) — The following open letter to Sacinandana Swami was published on author Hanuman das's Facebook page:
Dear Sacinandana Swami, please accept my humble obeisances. All glories to Srila Prabhupada.
My name is Hanuman das and I live near Zagreb, Croatia. In this country, you have quite a few disciples. In recent years, I noticed trend in some of them that they became followers and sympathisers of Ramesh baba, sahajiya and mayavadi from Vrindavan.
I did little research and I traced this Ramesh baba affection back to you, I discovered video on the internet in which you take instruction from him, video is here:
FULL STORY


Indradyumna Swami Maharaj Meeting with Students and CHILDREN

BY: SUN STAFF

Apr 25, CANADA (SUN) —
The title of this article is an English translation of the following disturbing video, titled in Russian. Although sastra states that those in the renounced order of sannyasa should give up their attachment to women and children, clearly Indradyumna Swami maintains his attraction to children. This, despite the great uproar which ensued a few years ago, when the swami posted numerous photos of scantily dressed women and girls on his webpage.
FULL STORY


Appreciation for Women: Masters or Mother?

BY: PHALINI DEVI DASI (ACBSP)

Apr 25, INDIA (SUN) — Women: Masters or Mothers? called by the author a "tract," is much more than just a religious pamphlet. It is a deep and thoroughly cogent treatise on the current social anomalies within ISKCON (mirroring the social aberrations of the Western world) and how these incongruities relate to and have arisen due to our members remaining too much influenced by Western society.
H.H. Bhakti Vikāsa Swami is not concerned with how he will be viewed for stating facts. He speaks courageously and truthfully about the unquestionable presence and pernicious effects of feminism within ISKCON, the need for early marriage, the practicality of polygamy, the importance of shyness among women and their need for protection, the fact that Śrīla Prabhupāda never appointed women as temple presidents or GBC members, the dangers of co-education and worldly careers for women, and other such hush-hush, hot topics that may arouse angry arguments but that nonetheless need to be addressed, discussed, and adopted in our society as part of fulfilling the other 50% of Śrīla Prabhupāda's mission: daiva-varṇāśrama-dharma.
FULL STORY



BY: MAHAVIDYA DAS (ACBSP)

Apr 25, UK (SUN) —
Satire is easy...anyone can find fault…
especially in the Kali Yuga.
I do it all the time.
The popular media is full of it.
The papers… movies... TV.
It's much harder to come up with my own good example.
In ISKCON we also did or do the same.
At Christmas time at the Manor we would perform a yearly review which poked fun at everyone.
Anyone was fair game.
Generally it was considered acceptable and taken as part of the long standing British tradition of theatre.
Perhaps a few feathers were ruffled, but nobody's blood was spilt.
(At least not intentionally.)
I still remember "Hindurella" and never knew just how funny some of my Godbrothers and sisters could be.
FULL STORY



BY: CAITANYA DAS

Apr 25, UK (SUN) — In regards to the piece posted by Krishna das, a point to bear in mind is that Srila Prabhupada himself said, even if you all leave, someone somewhere will take up a book and the whole preaching would continue.
This seems to indicate that the preaching mission that Srila Prabhupada had envisioned was not reliant on any specific organisation or specific personalities. The mission of Mahaprabhu waits for no one, and the current ISKCON may well have to change to truly reflect the priorities that Prabhupada put in place. If not, a new movement will emerge in time.
FULL STORY


Navadvipa-dhama-mahatmya, Part 11

BY: SUN STAFF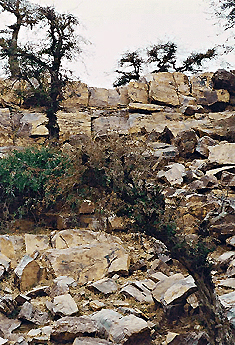 Apr 25, CANADA (SUN) — Eighteen chapters describing a complete tour of the land of Navadvipa, as traversed by Lord Nityananda. Written by Srila Thakur Bhaktivinoda in Bengali, 1890.
Navadvipa-dhama-mahatmya
Parikrama-khanda
Chapter Chapter Eleven - Sri Koladvipa, Sri Samudragada, Sri Campahatta, and Descriptions Regarding Jayadeva
All glories to Sri Caitanya! All glories to Nityananda! All glories to Sri Advaita Prabhu and the devotees of Lord Caitanya headed by Srivasa! All glories to Gaura-bhumi, the essence of all abodes, where Sri Caitanya descended with the holy name.
Nityananda spoke, "Listen everyone! This is Pancaveni, where five rivers join the Ganges. The Bhagirathi mixes with the Mandakini and Alakananda, and the Sarasvati flows here hidden from view. From the west, the Yamuna flows along with the Bhogavati. The Manasa-ganga also quickly flows there.
FULL STORY


The Story of King Hariścandra, Part 6

BY: ISVARA DASA

Apr 25, VRINDAVAN DHAM (SUN) — Meanwhile when the prince Rohita heard everything about the appearance of Varuṇdeva before his father and subsequent incidents, he became very happy and came out from the dense forest. He decided to return home and meet his father. In the course of time as he arrived home his father embraced him with love and affection and tears began to flow down from his eyes.
FULL STORY



BY: KRISHNA DASA

Apr 23, EUROPE (SUN) — Who is the successor to Srila Prabhupada? Over the years there have been many claims to the throne. Without wishing to systematically examine each one, here are some examples:
1. Kirtanananda declared himself as the only true successor of Srila Prabhupada.
2. Tamal Krsna Maharaja was temporarily banned from initiating after claiming he was the via media to Srila Prabhupada and absolute authority to his godbrothers.
FULL STORY


GBC UK and GBC NA EC Banning of Women: Masters or Mothers?

BY: SRINIKETAN DAS

Apr 23, INDIA (SUN) — This book was banned by the GBC UK, GBC NA EC and VEB (Vrindavan Executive Board). We continue our serialized response to the >Resolution by NA EC banning Women: Masters or Mothers? (WMM). For information on the background of this serialized response please read the Introduction.
[NA GBC] Clause 5
Whereas beginning on page 15 (In WMM 2nd edition it is on page 14, 2nd para.)
it is stated: "But a major objective of Srila Prabhupada's mission was to, as far as possible, reestablish pristine Vedic culture-including early marriage*), polygamy and a non-egalitarian social system. (*which he later establishes as age five years for female children);
FULL STORY



BY: MAHAVIDYA DAS (ACBSP)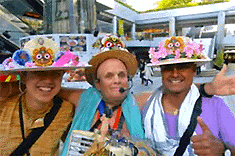 Apr 23, UK (SUN) —
In the beginning...
There was the chorus of death...
and ...
in due course of time ...
the madness spread throughout ISKCON.

The two foolish people on either side of ISKCON diksa guru, HH Mahavishnu Swami...
well…
they can be excused.
They are young... inexperienced... and just plain foolish.
However…
HH Mahavishnu Swami is supposed to be a "good as God" representative of the Gaudiya Vaishnava Sampradaya.
He is supposed to be representing our previous Acharyas.
FULL STORY


Navadvipa-dhama-mahatmya, Part 10

BY: SUN STAFF

Apr 23, CANADA (SUN) — Eighteen chapters describing a complete tour of the land of Navadvipa, as traversed by Lord Nityananda. Written by Srila Thakur Bhaktivinoda in Bengali, 1890.
Navadvipa-dhama-mahatmya
Parikrama-khanda
Chapter Ten - Description of Brahmana Pushkara, Sri Uccahatta, and the Sequence of Parikrama
All glories to Gauranga and Nityananda along with Advaita! All glories to Gadadhara and Srivasa Pandita! All glories to Navadvipa, the abode of pure bhakti! And all glories to the names of Gaura and Nityananda!
FULL STORY


The Story of King Hariścandra, Part 5

BY: ISVARA DASA

Apr 23, VRINDAVAN DHAM (SUN) — When such a commotion was going on, Kauśika's son Viśvāmitra mercifully arrived before the King and explained to him as follows, "Śunaḥśepha is crying pathetically. Therefore, it is better for you to let him go. This will help you to complete your sacrifice and destroy your illness. You must understand that there is no better piety than compassion, and no greater sin than envy. In order to gradually remove the tendency for committing sinful activities for those who are attached to sense gratification, the arrangement for animal sacrifice is mentioned in the literature belonging to the mode of ignorance, but it is never meant to encourage or increase violence.
FULL STORY


Apr 23, CANADA (SUN) — The Sun's weekly cartoon series.
FULL STORY