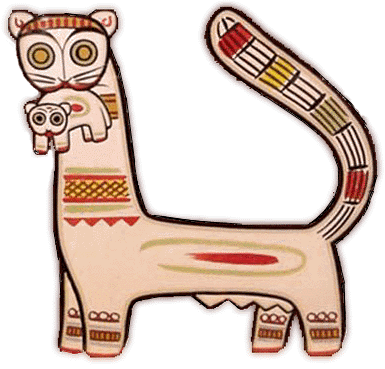 Cat and Kitten
The Classic Indian Animals Embroidery Kit features your choice from a collection of beautiful images adapted from paintings by artist J. Roy. Everything you need is included in the kit:

High quality off-white linen fabric
Wooden embroidery hoop
Embroidery needle
Top quality embroidery thread, in all the colors needed for your pattern
Embroidery pattern for you to sew
Basic instructions on how to proceed (very simple!)




Choose the Cat & Kitten, Horse, Lion, Cow & Calf, or Peacock.







If you've never embroidered, here's the perfect way to start-out. The pattern is easy to follow, and even if you've never sewn before your finished product will be lovely! Sew for just an hour in the evenings, and it takes only four or five evenings to complete a 7" design. Once you're finished, just press the fabric, turn the edges under, and use to adorn a pillow, or frame and hang.
---
---